Erb Institute
About the Institute
Our mission is to create a socially, environmentally and economically sustainable world through the power of business.
The Erb Institute is a partnership between the Ross School of Business and the School for Environment and Sustainability (SEAS) at the University of Michigan. The institute's mission is to create a socially and environmentally sustainable world through the power of business. We do that through research, teaching and business engagement—all focused on preparing and supporting bold business leaders who can adeptly transform companies, industries and entire economies for systemic sustainability.
The institute was founded 25 years ago as a dual-degree program in which graduate students receive their MBA from Ross and their MS from SEAS. Today, the institute has grown to include scholarly and applied research on business sustainability, as well as direct business engagement to turn ideas into action through on-the-ground projects with companies, social enterprises and nonprofits committed to business sustainability.
Research
The Erb Institute supports research through our faculty, faculty affiliates and postdoctoral fellows. We seek to advance research at the nexus of business and sustainability, and to translate existing research into practical tools for businesses. 
Education
The Erb Institute offers programs for both graduate and undergraduate students. Both our graduate dual-degree and undergraduate fellows programs are designed to equip future business sustainability leaders with the tools and resources to lead with purpose.
Engagement
The Erb Institute seeks to advance real-world business sustainability outcomes through strategic partnerships with businesses and nonprofits. These partnerships result in a variety of programs, including executive education and research projects. 
Our Founders
In 1996, the Frederick A. and Barbara M. Erb Environmental Management Institute, a joint venture between the Stephen M. Ross School of Business and the School of Natural Resources and Environment (now known as the School for Environment and Sustainability), was established through a $5 million endowment gift from Frederick Erb, U-M BBA '47, and his wife, Barbara. Subsequent Erb gifts, eventually totalling $20 million, represent the largest known commitment to a university for interdisciplinary teaching and research in the area of global sustainable enterprise.
The Frederick A. and Barbara M. Erb Institute for Global Sustainable Enterprise began with a noble concept: Create a better world by harnessing the combined power of business and science to drive positive, sustainable social and environmental change.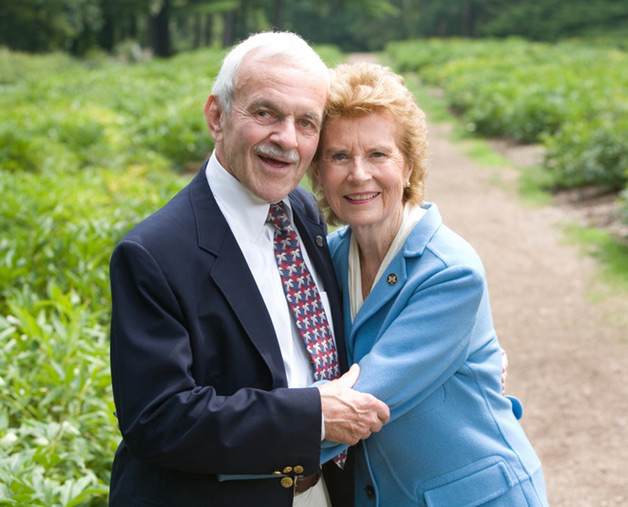 Our history.
Over 20 years of impact, community, research and education.
Our alumni.
Over 500 strong and counting.