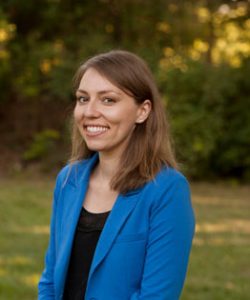 Sheena VanLeuven
Senior Analyst
CamberView Partners
Sheena is interested in advancing the private sector toward a future where environmental sustainability is woven into the fabric of all levels of operation and management. To that end, she aims to work with companies to proactively develop environmental management strategies to reduce their environmental footprints. She also has an interest in how companies both anticipate and react to government environmental regulation, and the differences in how publicly and privately held companies work to incorporate sustainability into their operations.
Prior to arriving at Erb, Sheena worked for the Metro Regional Government in Portland, Oregon. There, she served as a policy analyst for two elected Councilors and examined a broad range of public policy topics. From 2007-2009 Sheena served as a Peace Corps volunteer in Benin, where she undertook a variety of projects related to public health, the environment, and female empowerment. Both of these experiences contributed to her interest in working on environmental issues from a new angle in the private sector.
In her free time, Sheena enjoys spending time with her husband and dog, getting outdoors, and watching all of the films of Ingmar Bergman.