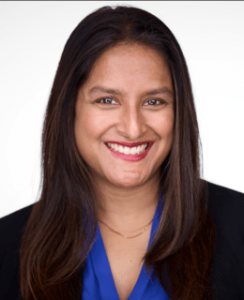 Sangeeta Labhsetwar Ranade
Vice President Energy as a Service
AlphaStruxure
Sangeeta leads the New York Power Authority's Clean Energy Business which includes Marketing Strategy, Business Development, Project Structuring, and Product Development. This team offers turnkey services that include site selection, design development, and finance structuring for customer-sited solutions such as distributed energy resources, electric vehicle infrastructure, energy efficiency retrofits, and solar + storage.
Her responsibilities include managing the team's profit and loss, signing over $300M in construction contracts per year, and reducing greenhouse gas emissions for NYPA's governmental customers 40% by 2030.
Sangeeta serves as a Board Member to the New York State Smart Grid Consortium and the Advanced Energy Research & Technology Center. She is also a member of the Building Energy Exchange's Industry Leadership Council.
Sangeeta holds an MBA and MS in Environmental Management from the Ross School of Business at the University of Michigan and a BS in environmental engineering from Northwestern University. She resides in Jersey City, NJ.