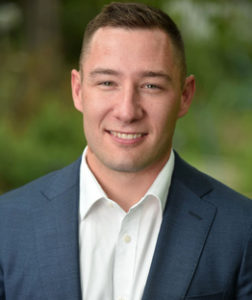 CAREER FOCUS
Consulting/Human Capital
---
SEAS TRACK
Behavior, Education, and Communication
---
UNDERGRAD
Truman State University
---
FAVORITE ACTIVITY
Biking; Exploring Chicago
Nick Barrett
Manager
Deloitte Consulting
Nick currently works as a Manager at Deloitte. Nick had come to the Erb Institute looking to apply his experience in technology adoption and change management to the implementation and adoption of renewable energy technology. To further this effort, Nick focused his coursework at Ross on finance and business development. Similarly, through the Behavior, Education, and Communications track at the School for Environment and Sustainability, Nick studied behavior change theory and methodology associated with environmental challenges.
Nick also lead the Energy Club at Ross where he facilitated opportunities for his colleagues to learn about and connect with professionals in the energy industry.
Last, Nick is a staunch advocate for the LGBT community in the workplace, and he was the Vice President of Admissions for the Out for Business Club at Ross.