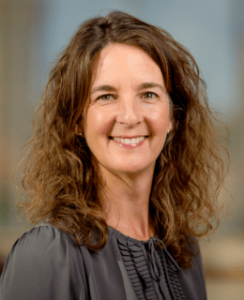 Melissa Vernon
Director Global Client Engagement
Climate Impact Partners
Melissa Vernon is the Director of Global Client Engagement at Climate Impact Partners where she oversees the delivery of successful climate programs by clients around the world as they tackle environmental and social impacts using market-based solutions addressing carbon, water, biodiversity and renewable energy.  Climate Impact Partners also oversees The CarbonNeutral Protocol and certifications of organizations and products.
Prior to joining Climate Impact Partners (formerly Natural Capital Partners), she spent 12 years at Interface, a globally recognized sustainability leader and carpet manufacturer, developing thought leadership on sustainability for customers, stakeholders and employees. She also worked for UM Ross Career Services as a career counselor for MBA and BBA students pursuing careers with impact.
Melissa is a graduate of the University of Michigan's Erb Institute for Global Sustainable Enterprise, with an MBA from the Ross School of Business and a Master's in Science from the School of Natural Resources and Environment. She also has a BS in marine biology from Duke University.