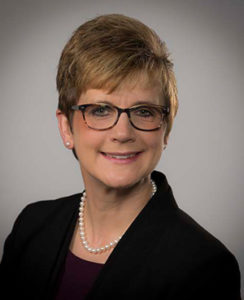 Mary Draves
Chief Sustainability Officer and Vice President of Environment, Health & Safety
The Dow Chemical Company, SAC Appointment Effective September 1, 2019
Mary Draves is the chief sustainability officer and vice president of Environment, Health, and Safety (EH&S) for The Dow Chemical Company. In this capacity, she leads Dow's ambitious 2025 Sustainability Goals and corporate EH&S governance.
Previously, Draves led the Company's ambitious "Valuing Nature" sustainability goal, which aims to deliver $1 billion worth of value to Dow from projects that enhance nature. Through her leadership, she and her team have created processes and spearheaded a cultural shift in which employees seek to incorporate nature into business decisions. To date, the Company has realized about $275 million of value from nature-based decisions.
She was responsible, also, for Dow's global remediation organization and implementing its strategy in a safe, cost-efficient manner consistent with Dow's commitment to sustainability. In addition, she led engagement with regulatory agencies and stakeholders on matters related to the Michigan Operations historical dioxin issue. She oversaw Dow's environmental technology center and environmental treatment assets globally, providing safe, reliable and compliant operations world-wide.
Draves joined Dow in 1989 at the Michigan Operations site and has held several manufacturing and EH&S leadership roles. She served as the issues management and government affairs expert for multiple products in the Dow portfolio both in the U.S. and Europe. She is a recipient of the Olympus Award, Dow's highest recognition for excellence in people leadership.
Draves holds a Bachelor of Science degree in biology and Master of Science in technological processes from Saginaw Valley State University in Michigan. She is a board trustee for The Nature Conservancy of Michigan, the Saginaw Valley State University Foundation, the Michigan 4H Foundation, and is a member of Isabella Bank's Eastern Region Board.