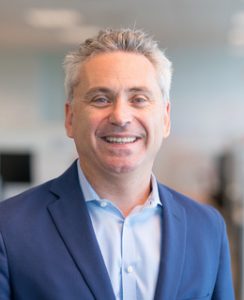 Kevin Greiner
President and CEO
Gas South
Kevin Greiner serves as President and CEO of Gas South, the southeast's largest retail natural gas marketer. Gas South had 2022 revenues of over $2 billion and currently provides natural gas to 450,000 residential, commercial, industrial, and utility customers in Georgia, Florida, North Carolina, and 11 other states. Through organic growth and four strategic acquisitions, Gas South has grown its sales volumes twenty-fold since its founding in 2006 to over 300 billion cubic feet (BCF) in 2022.
Gas South also engages in wholesale energy trading; supplies natural gas to municipal gas systems, power plants, and LNG terminals; manages natural gas storage and transportation assets on behalf of its customers; and markets renewable natural gas and verified carbon offsets to its customers through its FlexRNG product.
Staying true to its purpose of being a Fuel for Good, Gas South gives back 5% of its profits to help children in need and is investing over $50 million in community solar projects by the end of 2023.
Gas South has been recognized by the Atlanta Journal-Constitution as one of Atlanta's best places to work six times since 2016. Gas South is a wholly-owned subsidiary of Cobb EMC, one of the nation's largest and most respected electric cooperatives.
Kevin's community work includes serving on the board of directors of the following organizations: YMCA of Metro Atlanta (board chair, 2021-22); Georgia Partnership for Excellence in Education (board chair 2016-2017); Select Cobb (board chair 2020-21); Georgia Chamber of Commerce (executive committee 2014-15); Learn4Life; the Atlanta Opera; and the Metro Atlanta Chamber. His hobbies include tennis, baseball, music, and travel.