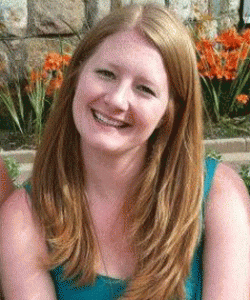 Katherine O'Hare
Senior Manager, Corporate Responsibility
PVH Corp.
Katie is currently a manager within the Corporate Social Responsibility department at ANN INC., the parent company of Ann Taylor and LOFT brands. She focuses on the company's Green Initiative and CSR reporting through their website, ResponsiblyANN.com.
While at Michigan, Katie's concentration at the School of Natural Resources was in "Behavior, Environment and Communication," focusing on how individuals and organizations think, what motivates them and how to effectively communicate with them. Katherine interned at Sustainable Food Lab where she worked to help farmers adopt more sustainable farming practices and assisted in field testing of soil carbon quantification methodologies. She also interned at the Innovation Center for US Dairy to help create the dairy industry's first sustainability progress report. Katie was also involved in many activities at Michigan and was formerly a Co-President of the Student Advisory Board.
Prior to Michigan, Katherine was a Communications Analyst at an advertising firm in New York City, and developed campaign strategies for national clients. Katherine holds a BA in Economics with a minor in International Relations from Colgate University.