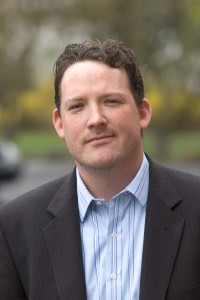 Doug Glancy – d. 2017
Director, Climate Speakers Network
The Climate Reality Project
We are deeply saddened to share the untimely passing of Erb Institute alumnus, Douglas "Doug" Roby Glancy.
Doug's family asked that we share Doug's fight with depression over many years and that despite attempts by loved ones to provide help and support, on Wednesday, October 25th, his decision to take his own life. This sudden loss has been devastating to his family, friends, colleagues and the collective Erb community. Doug will be remembered best for his unwavering commitment to keeping our planet safe for future generations. He was a passionate champion of the movement to address climate change and a thoughtful and articulate advocate for sustainability.
As a student in the dual-degree program at the Ross School of Business and the School of Natural Resources & Environment (now SEAS), Doug was an enthusiastic pioneer in his belief that sustainability could be achieved through business. At school, Doug became especially interested in strategies to internalize the costs associated with climate change into financing decisions. He was also elected to the SNRE student government where he co-founded the student newsletter, The Compostable Times.
Doug always found time to connect and reach out to others. He took a special interest in the Erb Institute and business sustainability and his unwavering support has made a difference in providing opportunities for many students following in his and his peers' footsteps.
Immediately following graduation, Doug established the Glancy Climate Innovation Award "to support student research into nontraditional approaches to addressing climate change by modifying other variables, such as albedo and carbon uptake". Every year the winner will come to know Doug's story, and that will continue in perpetuity.
Doug dedicated his career to causes that aligned with his environmental values, working at the intersection of the corporate, nonprofit, and policy worlds. In 2013, Doug co-founded the Climate Speakers Network, a platform housed at the Climate Reality Project that equips leaders to communicate more effectively about climate change. Thanks to Doug's vision and dedication, thousands of leaders around the world are transforming the narrative on climate change into a story of opportunity and expanding the chorus of voices calling for action.
Doug broke new ground, building a profession on the nexus of his passions: climate change, science, business and politics, and he did so in his own way, with a generosity of spirit, humor, kindness and thoughtfulness. Those that knew him best will always remember his quick intelligence, his huge heart, and ability to see beauty wherever he went; capturing surreally beautiful photos and video that so well captured the world he loved and worked so hard to protect.
We are proud to have called Doug a distinguished alumnus of the Erb Institute. In the outpouring of sympathy, we have received from the Erb community, Doug is being remembered as a loyal and generous friend, "unforgettable and dynamic", a brilliant and articulate conversationalist, and an especially fanatical Michigan football fan.
Our thoughts and prayers continue to go out to his family, especially to his siblings, Joan "Jody" Glancy (Ross MBA), Alfred "Rob" Glancy IV (MS/MBA) and Andrew "Drew" Glancy and parents, Alfred R. Glancy III and Ruth Roby Glancy.
The family's wish is to turn their anguish into hope for others suffering from this lonely desperate disease and have shared this Facebook post with an invitation to the community to include photos and memories that commemorate Doug's life. Please send submissions to: Love4DougGlancy@gmail.com.