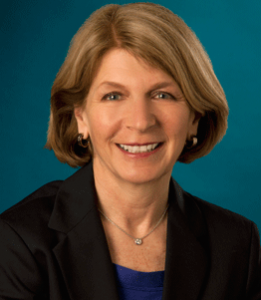 Dede Hapner
Executive in Residence
Erb Institute | Business for Sustainability
Dede Hapner has retired from the position of Vice President, FERC and ISO Relations, for Pacific Gas and Electric Company. At PG&E, she was responsible for developing, coordinating and managing policy, compliance and cost recovery with the Federal Energy Regulatory Commission (FERC) and the California Independent System Operator.
Hapner joined PG&E as a regional public affairs representative, after previously managing several government projects and NGOs. She held positions of increasing responsibility in the company's public, governmental and regulatory affairs departments. She was named Vice President, Regulatory Relations, for the utility in 1998, moved to PG&E Corporation as Vice President, Special Projects, in 2001, and from 2004 through September 2005, she led the utility's governmental relations department on an interim basis. She was named Vice President, Federal Regulatory Policy and Rates, in 2005. She was named to her most recent position in 2006 and retired in 2017.
Hapner holds a bachelor's degree in political science and a master's degree in American politics from the University of Michigan. She also has an MBA from the University of San Francisco. She currently serves on the Keystone Policy Center Board of Trustees, a science based, nonpartisan NGO that brings leaders together to solve today's most difficult public policy issues.