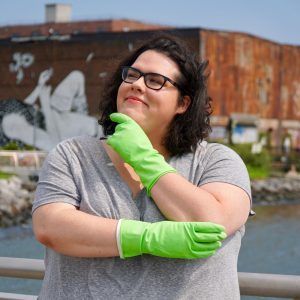 Daphne Medina
Director of Business Development
Earth Angel Sustainable Production Services, LLC
Daphne Medina is a film geek and sustainability professional focused on the ways in which the entertainment industry can help solve global social and environmental issues. She manages the business and sustainability strategy of Earth Angel Sustainable Production Services, a consulting firm that works in the entertainment industry to reduce the environmental impact of film and television productions including
The Post, The Marvelous Mrs. Maisel, Madam Secretary
and
Billions
. To date Earth Angel has reduced the carbon emissions of their sustainable productions by more than 5,000 metric tons.
She honed her skills in strategic planning and corporate social responsibility, as well as her expertise in the science of climate change and carbon accounting during her time in the MBA/MS program at University of Michigan's Erb Institute for Global Sustainable Enterprise. Before settling down in the entertainment industry, she worked on environmental issues around the world, from carbon offsets in Kenya to public transit on Hawai`i Island to eco-tourism in Ireland.
Hailing from Boston, she attended Boston University, graduating with BA in Political Science. When she has a free moment, she is probably trying a new seasonal recipe or catching up on all the movies and tv shows on her (very long) list.