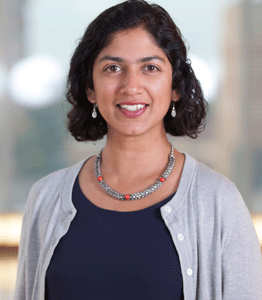 Amrita Vijay Kumar
Managing Director, Business Development
Ecotrust Forest Management (EFM)
Amrita wants to integrate money, meaning and markets in all her work. She is currently focused on catalyzing institutional capital towards sustainable forestry in the US. Her long term goal is to set up a fund in South East Asia that incubates and scales solutions that address climate change and development challenges, via thoughtful interventions.
For her first internship Amrita worked for E+CO, a social venture fund that finances and supports clean energy entrepreneurs in the developing world. She provided two entrepreneurs in Mali and Ghana with a complete analysis of the barriers to scale in their respective markets, made recommendations to improve their business models while utilizing carbon finance revenues. This past summer, she interned with Piper Jaffray's clean tech and renewable investment bank in Minneapolis. As a Summer Associate she assisted in raising capital for mid-cap wind, water and biotechnology companies. During her MAP project, Amrita consulted for Citigroup's Corporate Venture Capital and Innovation group, providing guidance on public transit oriented opportunities. Amrita is also a Frankel Fellow, a student run commercialization fund at the University of Michigan.
Prior to Erb, Amrita consulted for a carbon project developer in Indonesia, designing project documents for a peat-land forestry project. She has also worked for 5 years with PricewaterhouseCoopers in Singapore specializing in internal controls and risk management consulting. Amrita holds a Bachelor's degree in Business from Nanyang Technological University in Singapore.