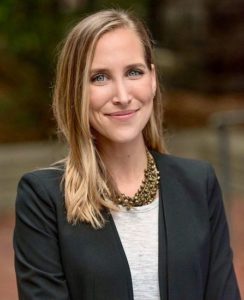 Lauren Baum
MBA/MS Candidate 2020
Erb Institute | Business for Sustainability
Career Focus:
Sustainable sourcing and supply chains
SEAS Track:
Environmental Justice
Undergrad:
University of North Carolina at Chapel Hill
Clubs and Programs at Michigan:
Non-profit
Favorite Activity:
Horseback riding, photography, travel
---
---
Lauren comes to the Erb Institute with a passion for sustainable enterprise and a deep commitment to helping businesses embed sustainability and social impact into their core operations. Currently pursuing an MBA at the Ross School of Business and an MS in environmental justice at the School for the Environment and Sustainability at the University of Michigan, Lauren focuses on sustainable supply chains and market-driven solutions to poverty.
Prior to joining the Erb Institute, she worked at the cross section of sustainability and communications, directing the communications strategy for agricultural impact investing pioneer Root Capital in Cambridge, MA and supporting the launch of a nonprofit climate change communications organization in New York City. During her time at Michigan, Lauren spent her summers interning with VF Corporation and Nike in responsible sourcing and operations roles, respectively. She graduated with honors from the University of North Carolina at Chapel Hill, where she earned a B.A. in public relations and sustainability.