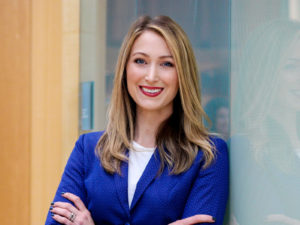 Keely Bosn
Erb Institute | Business for Sustainability
Class of 2020
Career Focus:
Strategy & Sustainability
SEAS Track:
Behavior, Education, and Communication
Undergrad:
BS Mechanical Engineering, Kettering University
Clubs and Programs at Michigan:
Military
Favorite Activity:
Christmas (and Christmas trees), family, driving 1973 Corvette
---
---
Keely served seven years in the US Navy as a Logistics Officer, earning her commission through Officer Candidate School in 2010. While stationed in Coronado, CA, she deployed twice to the Middle East with SEAL Teams 5 & 7. Originally hailing from Chickasha, OK, she attended Kettering University in Flint, MI, where she earned a BS in Mechanical Engineering and was an engineering co-op student at General Motors for five years. As a dual-degree MBA/MS student with Erb, she is focused on combining both Corporate Strategy and Sustainability to tackle global issues facing leaders today. She has interned at LLamasoft (a leader in Supply Chain Design Software) and General Motors (Global Strategy).
She is an avid member of the Armed Forces Association, Wolverine Disaster Relief Club, Zell Startup Lab, & is a Center for Positive Organizations +Lab Fellow. In her spare time, Keely enjoys spending time with her husband, four children, five chickens, rabbit, and two dogs.