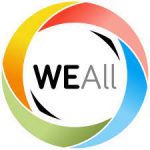 Website Wellbeing Economy Alliance (WEALL)
Location: Remote
Application deadline: Sunday June 26th at 11:59 PM UK time
Overview
The Wellbeing Economy Alliance (WEAll) is recruiting for a US Coordination Lead. The position offers the opportunity for a passionate individual to lead WEAll's work of connecting and accelerating the Wellbeing Economy movement in the US.
What is a Wellbeing Economy?
Instead of focusing on 'economic growth' – and then using some of that wealth to fix the damages done to people and the planet in the process – a Wellbeing Economy would be expressly designed to meet the needs of people and planet first and foremost.
The Wellbeing Economy agenda moves us beyond the capitalist vs. socialist debate by focusing on building an economy that recognizes that people and the planet are not here to serve the economy, but that the economy is here to serve us.
There are many different concepts within the Wellbeing Economy movement, such as circular economy, buen vivir, doughnut economics, business for the common good, community wealth building and many more.
Who We Are
The Wellbeing Economy Alliance (WEAll) is a collaboration of organisations, governments, movements, thinkers, and changemakers from around the world who are committed to transforming our economic system to deliver social and ecological wellbeing.
WEAll emerged out of a recognition that the economic transformation we seek cannot be brought about by any single entity on its own. It requires collaboration, inspiration, sharing, and especially co-creation. Our aim is not to micro-manage the change. We aim to galvanize and support new "power bases" from the local to the global level, which can illustrate that a different economic system is not only possible, but is already under way.
To date, WEAll has focused on connecting, convening, and amplifying the incredible work happening within the Wellbeing Economy movement. In order to accelerate economic system transformation, WEAll works to foster new powerbases in the form of global networks (such as our global membership and the WEGo government partnership) as well as place-based Hubs where stakeholders come together to build a Wellbeing Economy that reflects their local context, values and objectives.
Strategy in the United States
There is an entrenched belief that financial wealth is  synonymous with wellbeing and that progress and development can only be defined by our rate of  economic growth. The United States has been a chief architect and promoter of this narrative around the world – and continues to play a powerful role in shaping our global economic architecture.
But, we are seeing increasing calls for systems change across its society. The ground is more fertile now than ever before for a Wellbeing Economy movement in the US, with both the uprising of US civil society and the US government showing overdue leadership in global economic governance such as corporate tax reform and consideration of bold new  environmental initiatives such as the Green New Deal. However, at present, these initiatives are fragmented and lack the coherence of a compelling overall economic vision. There is a need for radical collaboration among parties across the country to advance a new economic paradigm.
Our key strategy for filling this gap is centred around the creation of new US-based WEAll hubs in different parts of the country. WEAll hubs are place-based cross-disciplinary  groupings that formulate, implement, test, and lobby for change strategies relevant to their locality's need and potential, in partnership with relevant local, regional, and national partners.
US-based Work
These hubs will connect,  support, and amplify the work of organizations, groups, and individuals across the US who are working to promote economic security, environmental regeneration, social justice, healthy  communities, etc. as key drivers of the Wellbeing Economy movement.
These hubs will exert pressure for change at all levels of the economic system, to help articulate and internalize a new vision of progress  for the US and connect with the growing, dynamic global movement. This new powerbase will  be supported by positive new economic narratives that are founded on solid research and  knowledge.
Global Work
In addition to facilitating change within the US, these hubs will also be expected to establish a two-way relationship with  the global WEAll hubs network, sharing resources, learnings, and partnerships.
What the WEAll Global Team Offers
WEAll's small core 'amplification' or 'Amp' team is committed to accelerating economic system change and who hold fast to a set of dedicated values within a flat organisational structure.
Care

: Strong empathy, communication, and interpersonal skills

Trust

: Comfort in working within a non-hierarchical organisation, based on self-management.

Equality

: Excitement to discuss Wellbeing Economy ideas and concepts, learn from and importantly, co-create with the WEAll membership and wider movement.

Passion

: for the Wellbeing Economy agenda and the need for global economic systems change.  

Togetherness

: Desire to work collaboratively with a team in an emergent space.
The US Coordination Lead will work closely with the Economics & Policy Lead, Amanda Janoo, the Advocacy & Movements Lead, Simon Ticehurst, and WEAll's soon-to-be appointed Knowledge Lead.
Start date: August 2022 or as soon as possible
Remuneration: 50,000 GBP per annum (dependent on experience)
Hours of work: The nature of this role is that flexibility in hours is required. For example, there will be some evening and weekend work, plus travel. Equally, WEAll offers flexibility. The contracted hours will be 35 hours per week, which can be worked on a flexible basis. Please note that WEAll does not officially operate on Fridays.
Location: Our team is global and we very much encourage and welcome applications from anywhere within the United States (working from home). We support and remunerate team members to work in co-working spaces.
What We're Looking For
As WEAll expands into the United States, we are looking for a US Coordination Lead who has demonstrable strategic and influencing skills, and a passion for economic system change and working collaboratively to deliver it.      
The post holder must be adaptable, creative, good at self-management, and – due to the nature of our small, flat-structured organisation – willing and able to turn their hand to a range of tasks and projects as required to support the movement.
WEAll recognizes the need for greater diversity in our team and the economic systems change movement more broadly and is committed to addressing it. If you believe you would bring greater diversity to our team, we're particularly keen to hear from you.
Responsibilities
Building Partnerships:
Research and learn about who are the key movements, organisations, and locations in which to build partnerships and establish WEAll US hubs, all to accompany the existing WEAll California hub.

Identify and proactively ally with key movements, organisations, communities, and members based in the US who could recognize that economic systems change is necessary to achieve their aims and are prepared to collaborate with others movements and communities to achieve it.

Work with existing WEAll US-Based members, such as Civil Wellbeing Partners, to:

Better understand the current Wellbeing Economy landscape, key actors, and parallel initiatives to determine where WEAll can best add value; and

Support  the movement through collaboration and amplification of their work and sharing knowledge/ideas/solutions from the global WEAll family.
Developing 'Powerbases':
Identify potential WEAll hub locations where there are clusters of passionate actors committed to economic systems change.

Launch new WEAll hubs where there is a clear need/demand for them in at least three locations around the United States, and generate interest and momentum in developing WEAll hubs in another three locations.

Support the establishment of WEAll hubs by connecting changemakers across sectors in key geographic areas and supporting them to develop goals and an action plan for the first 12 months.  

Support hub launch events to connect local actors, amplify existing work, and promote the Wellbeing Economy narrative.

Connect US hubs with global WEAll hub network through bi-monthly global meetings where they can share best practice and lessons learnt with a global community of practice.

Connect interested local US policy makers with global policy makers network.  

Support the growth of the WEAll membership based in the United States.
Disseminating Wellbeing Economy narratives:
Bring together key actors from across the country at two or three convened events to develop a strategy for complementary narratives and new collective actions towards advancing a Wellbeing Economy in the US.

Engage with US based journalists to explore alternative messaging and reporting around the economy that 

centres

 on wellbeing.

Outreach to local media outlets and journalists to 

galvanize

 greater media traction via workshops and training around reporting on a Wellbeing Economy locally in the US.  

Speak at relevant US-based events to raise awareness of the Wellbeing Economy movement.

Carry out external facing spokesperson activities to raise awareness of the Wellbeing Economy movement and WEAll across the US.

Organize

 speaking/presentation opportunities for US leaders and the global WEAll family to present and to learn from each other, in collaboration with 

WEAll's

 Hubs Lead.  
Co-creating Knowledge:   
Delivery of training/workshops on Wellbeing Economy to interested US 

organizations

,  students, journalists, policy makers and activists, in partnership with other Amp team members.

Work in partnership with other Amp team members to develop and disseminate resources, case studies, and Wellbeing Econom

y knowledge which is appropriate to support the US-based WEAll hubs and relevant movements and organisations.

Facilitate the sharing of knowledge and lessons learned between 

US-based and global WEAll hubs on how to accelerate the Wellbeing Economy movement locally and worldwide, in partnership with WEAll's Hubs Lead.
Core functions:
Contribute to fundraising for relevant elements of the WEAll strategy, including the writing of funding bids and ad hoc funder engagement, guided by the Development Lead.

Be an active and collaborative Amp team member including acting as a coach for a colleague and working with our membership, encouraging them and connecting them to each other and external opportunities. 
Qualifications
Essential
Understanding of and passion for the Wellbeing Economy agenda and the need for global economic system change.

Well respected in the field of progressive economics.

Ability to provide thought leadership, persuade and change the minds of strategic audiences.

Strong facilitation and coordination skills.

Experience of operating in multi stakeholder arenas and proven ability to convene multi-stakeholder networks (formal and informal).

Demonstrated ability to manage stakeholders from diverse backgrounds and ideologies across the US.

Excellent written and verbal communications skills with the ability to communicate complex ideas in an accessible and engaging manner.

Evidence of strategic thinking and ability to project manage.

Ability to self-manage, self-motivate, and demonstrate persistence.

Strong interpersonal skills, empathy, and ability to

 listen and develop relationships.

Share WEAll's values and is excited to work collaboratively with a team of peers.
Desired
Contacts in one or more of the following movement types in the US: environment/ social justice/ development.