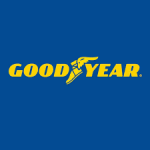 Website Goodyear
Location: Akron, OH
Overview
For more than 120 years, Goodyear has been developing products and services that keep the world moving. From emergency response vehicles that save lives each day to aircraft that make global travel possible to the cars, SUVs and trucks that bring people home to their families, Goodyear tires and service play an integral role in bringing people together and making transportation possible.
In our relentless pursuit of forward motion, Goodyear is constantly evolving to improve our performance. In addition to continuously enhancing product quality and developing new innovative technologies, we are also working toward building a better future, to keep the world moving.
In 2018, we launched Goodyear Better Future, our corporate responsibility framework, to enhance the existing governance of our high-priority sustainability focal areas. The framework helps ensure corporate responsibility is integrated into all levels of our organization, promotes communication and awareness, and drives alignment with our corporate strategy and stakeholder priorities.
To fully support this framework, Goodyear is looking to hire a Lead Sustainability Specialist, to join our Corporate Global Sustainability team to help lead and execute strategies for Goodyear's high priority sustainability topics.
Responsibilities
Partner with the organization as a subject matter expert to advise on goals, strategy and solutions development to advance our maturity on sustainability related topics such as biodiversity, circularity, climate change and human rights
Provide project management support for execution of corporate wide initiatives such as periodic materiality assessments and our Goodyear Better Future topic governance process
Coordinate our corporate wide efforts and communication on assigned topics, such as climate change, through leadership of cross-functional teams
Research complex sustainability topics and advise the organization on risks and opportunities related to Goodyear's business model
Support the development of tools and resources to build organizational capability and awareness of sustainability related topics
Required Education and Experience
Bachelor's degree in Business, Environmental Sciences, Environmental Management, Sustainability, Engineering, or related field.

Master's Degree; PM Certified; relevant topic area certifications

7+ years relevant sustainability experience.
Experience in guiding, mentoring &/or leading a team.
Skills and Abilities
Project management
Systems thinking
Strategic thinking
Influencing skills
Strong written & oral communication skills
Cross-functional collaboration
Self-learner