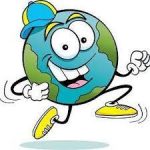 Website Happy Planet Running
Location: Michigan
Overview
Every year hundreds of athletic events take place all over Michigan. Most of these events do not recycle or compost their event waste. As a competitive runner, I participate in many races every year, and I got sick of seeing so much recoverable material go to a landfill.
So in 2017, I founded Happy Planet Running to provide recycling and compost recovery services to small-to-medium sized races (100-4,000 athletes), ranging from 5K footraces to marathons and ultramarathons, bike races, and triathlons.
I specialize in these size events because they are underserved. Larger races can afford a substantial Zero Waste effort, but small events have limited budgets, limited resources, and lack of knowledge about what can be done. So I do my best to make my service affordable while diverting as much waste as possible back to productive use.
I have now provided Zero Waste services to over 150 events with an average landfill diversion rate of 95 percent. Most of these take place in southeast Michigan, and now I want to "spread the word" by providing information and educational services across the entire state, so more events practice Zero Waste even if I cannot directly serve them.
My outreach project has the following objectives:
Get the "sustainability is doable and affordable" message out to small athletic events all over Michigan, to increase the state's recycling rate.
Build a support network and resource database of recycling and composting providers in Michigan, and make it available to event companies to encourage them to go sustainable.
Promote reduction of hard-to-recycle products at events, such as waxed cups, plastic utensils, Styrofoam, and plastic bags, or replace them with materials that are easier to recycle, reusable, or compostable.
My data shows that a typical footrace in Michigan generates an average of 33 pounds of municipal solid waste (MSW) for every 100 runners. With prices for recycled materials improving, and corporate commitments to increase use of post-consumer materials, landfilling this MSW is a double loss economically. Currently, Michigan's overall recycling rate is 15 percent, less than half the national average.
Fortunately, the state is finally trying to address that. They have set a goal to triple the recycling rate, and have started initiatives for individuals, businesses, and governments to come up with programs to get there.
Last fall I submitted a grant proposal in the NextCycle Michigan MICROS track, with proposed funding to support my outreach project. It has been accepted, but final approval for funding has stalled, and I do not want to wait longer. I would like to begin work on the outreach program this summer if possible, so I am looking to recruit 1-2 interns to help me get it started.
Details
I would like hire 1-2 interns for the summer, and possibly autumn, of 2022, to support HPR in the following ways:
Work at Zero Waste events. Learn the mechanics of sorting waste streams and what materials are recoverable, using either local recycling and composting resources, or special services such as TerraCycle.
Assist in the design of an affordable Zero Waste services model that could be used by events when HPR is not available to be onsite. The model would include a customizable Zero Waste event plan, educational materials, and reporting template.
Assist in the creation of an online database of recycling and composting providers in Michigan that can be used by event providers. The database would also include carbon offset opportunities such as donations to purchase credits, planting trees vs. giving out T-shirts, and carbon footprint calculators.
Upgrade HPR's online presence by improving the website and promoting Zero Waste through social media.
I also expect to offer opportunities for additional education in Zero Waste practices such as tours of Material Recovery Facilities (MRFs) and commercial composting farms, and attending recycling seminars and conferences, subject to availability.
Compensation would be hourly, on a part-time basis, with no additional benefits. The total number of hours available will depend in part on the grant being funded, so I will reevaluate options after 120 hours are expended.
Rate: $16.00 per hour.
Travel time to/from events and educational opportunities would be the responsibility of the intern and not compensated.
To apply for an internship position, please send your contact information to jeff@happyplanetrunning.com, with your qualifications and your reasons why you believe you would be a good fit for helping HPR achieve its outreach goals. Also please tell me what you hope to learn from the experience, and how I can help you do that.