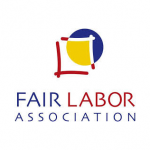 Website Fair Labor Association
Location: Washington, DC
Overview
The Fair Labor Association (FLA) combines the efforts of industry, civil society organizations, and colleges and universities to promote and protect workers' rights and to improve working conditions globally through adherence to international standards. The FLA is headquartered in Washington, D.C., and has offices in Geneva, Switzerland and Cote d'Ivoire, Ivory Coast.
The Social Compliance Manager-Factory Assessments ("SC Manager") is responsible for managing the Fair Labor Association's Sustainable Compliance Initiative (SCI) factory assessment program.  The SC Manager oversees the annual factory assessment cycle, manages relationships with independent external assessors, and oversees the assessment quality review process.  This position also collaborates with the accreditation team to integrate factory assessment data into the company accreditation process and helps guide companies in their remediation efforts.
Responsibilities
Serve as team lead and project manager of FLA's Sustainable Compliance Initiative (SCI) factory assessment program.  Maintain overall quality and efficiency of the program, consistent with the FLA Charter and adopted policies and procedures.
Lead the development of new enhancements, efficiencies, tools, policies and procedures to further enhance the FLA's social compliance program, particularly with respect to factory monitoring and remediation.
Develop appropriate administrative systems to ensure that the SCI process runs smoothly.   Oversee all scheduling, communication, and report review and ensure that the program adheres to appropriate timelines.   Implement efficient processes while maintaining a high level of program rigor.
Serve as primary point-person for companies and assessors throughout the SCI cycle.   Provide specific guidance towards the fulfillment of the FLA Code of Conduct and Compliance Benchmarks, including accurate reporting and remediation of SCI findings.
Maintain factory assessment data within the FLA's internal platforms.  Act as the primary point of contact for assessors and companies as they use the system to input factory assessment data. Raise any user issues with FLA's external vendors and recommend solutions as needed.
Provide periodic written and verbal reports to companies, senior staff, the FLA's Manufacturing Committee, and the FLA Board regarding SCI factory assessments.   Analyze trends in factory-level data to help inform FLA's programs and strategy.
As a relationship manager, communicate regularly with companies and other stakeholders to pursue information and provide feedback. Collaborate with other departments as needed to provide coherent and consistent guidance to companies.
As necessary, lead and support the accreditation and reaccreditation of affiliated companies' labor compliance programs, consistent with the FLA Charter and adopted policies and procedures.
Represent the FLA at meetings and professional gatherings as appropriate.
Other duties and special projects as assigned.
Qualifications
Graduate degree preferred. Undergraduate degree in relevant field required with at least five years of professional experience, preferably in corporate social responsibility, law, social research, human resource management, manufacturing, sourcing or industrial relations.
Knowledge of and experience in the labor compliance field, labor rights, human rights and/or corporate social responsibility as well as supply chain management, sourcing, and production.
Experience in people management strongly preferred.
Strong computer literacy and comfort with a variety of technology platforms.
Strong writing skills and the ability to perform basic data analysis.
Ability to synthesize large amounts of information quickly and accurately.
Strong commitment to the mission of the FLA to protect workers' rights and conduct due diligence on affiliated companies.
High-level communication skills, both oral and written; proven ability to deal with confidential and sensitive matters.
Strong organizational skills program management skills; time management skills; and keen attention to detail.
Travel up to 25% is required for this position.