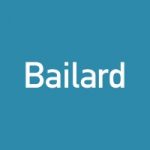 Website Bailard
Location: San Francisco, CA
Overview
Bailard is an innovative wealth management and investment management firm with offices located in San Francisco and Foster City.  Built by entrepreneurs, Bailard attracts and retains talented individuals with intellectual curiosity, a passion for excellence, and a capacity for independent thought.  Bailard maintains a high-trust culture that fosters professional growth and personal responsibility.  We proudly serve more than 800 institutional and private clients, offering a variety of proprietary traditional and alternative investment products and exceptional personal service.
Bailard's SRII team oversees ESG/SRI equity investment strategies for Bailard Wealth Management clients and provides central support for ESG, Impact and corporate engagement firm wide.
Bailard is seeking a Senior ESG Analyst or ESG Analyst (depending on experience) to join its Sustainable, Responsible and Impact Investing Team (SRII).  The Analyst will be directly involved in managing Bailard's proprietary ESG Capture™ scoring process, the SRII group's corporate engagement and stake holder relationships, firm-wide ESG projects across multiple asset classes, and thought leadership and media work. The position will provide analytical support across all Bailard investment strategies. The Analyst will report to the Director of SRII.
The SRII team is eager to identify a smart, skilled advocate for ESG investing that can contribute to the strategic growth of ESG at Bailard.  The team is looking for a team player capable of juggling different responsibilities. Outstanding analytical, oral and written communication skills are a must, as well as the ability to adapt quickly, remain flexible, and manage multiple deadlines.
Responsibilities
Supporting 8 wealth management investment strategies and the Small Value ESG Fund through research functions, data management, communication and ad hoc projects/qualitative research. Additionally the analyst will provide ESG support for other institutional strategies and fixed income.
Owning data management from our ESG data sources and serving as the point-of-contact/internal Bailard resource for all ESG vendors. Participating in all external calls with vendors and potential ESG sources. Maintaining the internal database of ESG vendors and growing institutional knowledge of ESG vendors. Staying up-to-date on any changes in vendor methodology via webinars and communications with the company reps, and conveying these updates to the broader group.  Coordinating all suitability and one-off research projects including calls with analysts from ESG vendors.
Stay up to date on ESG Trends via webinars, newsletters, and networks (daily), disseminating information to the broader group.
General investment research including helping to prepare packets for weekly SRII meetings.
Contribute to SRII/ESG collateral material and thought leadership pieces through original content, proofreading research and copy editing of team-produced pieces.  Produce and disseminate quarterly corporate engagement update.  Produce and distribute SRII content to clients.
Coordinate all corporate engagement efforts; manage the relationships and opportunities with stakeholder partners, participate in company dialogues, and coordinate shareholder paperwork with clients.
Firm contact for the Principles for Responsible Investing (PRI).
Preferred Qualifications
Bachelor's degree in Finance, Economics, or field that intersects with ESG (social justice, environmental studies etc.)
2-3 years of work experience in ESG related field (for Senior Analyst)
Strong proficiency in Excel with experience in data management.
Strong proficiency in PowerPoint.
Excellent analytical, organizational and communication skills. Detail oriented.
Must be able to manage multiple priorities and meet deadlines.
Desire to work across all asset classes.
Able to work independently but must enjoy working closely with fellow team members.