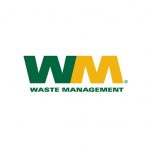 Website Waste Management
Location: Remote
Overview
Waste Management (WM), a Fortune 250 company, is the leading provider of comprehensive waste and environmental services in North America. We are strongly committed to a foundation of operating excellence, professionalism and financial strength. WM serves nearly 25 million customers in residential, commercial, industrial and municipal markets throughout North America through a network of collection operations, transfer stations, landfills, recycling facilities and waste-based energy production projects.
The Senior Director of Social Impact will help build WM's social impact strategy aligning with our brand identity (always working for a sustainable tomorrow), and our ESG platforms, strengthening our reputation and connections with our key stakeholders – specifically communities, customers, and employees.
Duties and Responsibilities
To perform this job successfully, an individual must be able to perform each essential duty satisfactorily. Other minor duties may be assigned.
Develops strategy for social impact through working with cross-functional teams while working within budget and meeting timelines.
Leverages Corporate Social Responsibility (CSR) industry knowledge and trends to develop new and innovative programs.
Develops industry and community relationships to identify evolving opportunities for WM to engage in social programs that align with our brand and contribute to our corporate reputation.
Ensures that all channels (physical, digital, press, social) are integrated, cohesive and compelling in representing the social impact objectives in alignment with WM's brand promise. Connects the objectives to the work we do on behalf of our stakeholder groups.
Communities
Provides recommendations for the selection of national and/or regional partnerships based on the strongest ROI for WM.

Develops a plan with shared inputs for operationalizing how these partnerships are used within our 16 geographic areas as well as at the Corporate level across WM's lines of business.
Works cross-functionally to activate the partnerships while utilizing existing area and national sponsorships.
Focus most, if not all, WM social impact programs around fewer and more meaningful partners.

Responsible for directing meaningful and quantifiable charitable partnerships and volunteerism programs in scalable ways to foster improved employee engagement and pride in WM's community engagement.
Leads the development and execution of the Company's environmental justice (EJ) playbook.
Employees
Works closely with the People Organization to integrate the WM social impact strategy within our talent strategy.
Partners to integrate internal and external IED initiatives within CSR programming and on behalf of enterprise wide IED strategies.
Communications and Operationalizing the Strategies
Partners with Corporate Communications to identify external and internal narratives and communications opportunities to drive awareness for social impact programs and to amplify progress and key events.
Engages with internal partners to develop programs, content ideas and activation plans for select WM events such as the Sustainability Forum, Change Makers and others as directed by the Chief Sustainability Officer (CSO).
Builds, operationalizes and supports a mechanism to track market area programs (environmental and social) to include in WM's overall impact, progress dashboards and scorecards. Aligns metrics to programs and goals, both enterprise-wide and individual, tracking progress and adjusting, as needed, to meet goals.
Supervisory Responsibilities
The highest level of supervisory skills required in this job is the management of employees.
Qualifications
Education and Experience
Education: Bachelor's degree (accredited) in Public Administration, Public Affairs, Marketing, Communications, or Business Administration, or in lieu of degree, High School Diploma or GED (accredited) and four (4) years of relevant experience.
Experience: Ten (10) years of experience managing social impact strategies. Experience with Corporate Sustainability reporting on the social part of ESG (i.e. the social section of Dow Jones).
Other Knowledge, Skills or Abilities
Self-starter, able to work in a fast-paced environment and navigate ambiguity.
Strategic thinker with the ability to translate trends and analytics into actionable solutions.
Robust project management expertise, including leading complex, high visibility initiatives; large cross functional teams; multiple internal and external stakeholders.
Ability to create compelling materials to align team, executives, and key stakeholders.