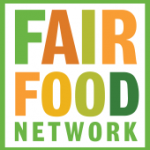 Website Fair Food Network
Location: Ann Arbor, MI or U.S. EST Remote
Overview
Fair Food Network is seeking its next Senior Director, Impact Investing to lead its Fair Food Fund and impact investing programming. This work is reimagining how capital in all forms – financial, social, intellectual – moves in communities so that food entrepreneurs can be leaders of a more equitable future. Fair Food Network deploys multiple tools — from financial investments to capacity building to policy advocacy — in pursuit of its mission to grow community health and wealth through food. Fair Food Network focuses on creating immediate impact alongside systemic change in ways that harness the power of the food economy to address root causes of racial, social, and environmental inequities. Together with a national network of partners, the Fair Food Network is generating improved health, economic well-being, and environmental regeneration. The successful candidate will blend impact investing skills and knowledge of effective entrepreneurial support strategies with strategic thinking, superb communications skills, and an entrepreneurial approach to advance Fair Food Network's impact in this rapidly evolving space.
Fair Food Network impact investing programming includes a national Food Fund that deploys integrated, catalytic capital investments, often in partnership with other community lenders, as well as a growing array of technical assistance offerings. The program's goal is to unlock opportunity for entrepreneurs, with a focus on businesses led by women and BIPOC entrepreneurs, in pursuit of a thriving, equitable local food economy. Current areas of work are in Michigan, the Northeastern US, and Camden, New Jersey.
Over the last eight (8) years, Fair Food Network has supported hundreds of entrepreneurs with technical assistance and invested $4 million in businesses across nine states. Its work enables deals that otherwise might not be possible, developing leaders and fostering new funding collaboratives. In Michigan, Fair Food Network is the administrator of the Michigan Good Food Fund, a statewide collaboration that supports good food entrepreneurs working to increase access to healthy food and spark economic opportunity in places that need it most.
As Fair Food Network looks to the future, it is expanding its vision and seeking to grow its impact. This includes bringing in new and diverse resources and continuing to innovate, expand its offerings, and deepen the community integration of place-based collaborations like the Michigan Good Food Fund.
This full-time position will be at the forefront of this critical work, in collaboration with a dedicated team of four (4) direct staff reports and several consultants.
To apply for this job please visit npag.com.