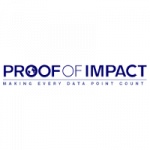 Website Proof of Impact
Location: Delaware
Overview:
POI is a US company headquartered in Delaware but is operating globally. We are closing a $3M Seed Round in September with an impressive cap table including Franklin Templeton Investments, Working Capital Fund, CV VC, Pangea Blockchain, Ausum Ventures, and high-profile angel investors.
The Sales team is the primary external-facing team at Proof of Impact and is responsible for sourcing, qualifying, and selling the POI offering to external prospects.
As the Sales Development Representative, you'll be the first line of defense for each prospect. You'll be responsible for building our inbound, outbound, and partnership funnels to drive new business to the sales team.
Responsibilities:
Identify, qualify, & schedule demos for potential Proof of Impact customers
Design and implement outbound email campaigns to generate interest and drive new leads to the business
Manage inbound leads from marketing, partnerships, and product teams
Document various details like customer profiles, responses, and next steps
Aggregate feedback from prospects through actively listening to prospect needs, market demands, and industry trends to improve Proof of Impacts value proposition and help the product team improve their PMF efforts
Research, develop, and implement sales strategies and tactics to drive more demos
Assist our Go-To-Market teams with developing and executing go to market strategies
Preparing marketing materials like decks, one-pagers, case studies, promotional videos, and use cases
Contribute to the content calendar with social media postings on a weekly and monthly basis
Monitor analytics with the rest of the team to identify viable ideas, trends, and growth patterns
Participate in brainstorms to share ideas, define strategy and be instrumental in bringing them to life
Qualifications:
2+ years in sales or business development in a SaaS or high growth technology startup
1+ years experience working with financial institutions or venture capital, with a strong preference for impact-focused financial services experience
Are executed to roll up your sleeves and get work done in a fast-paced environment of an early-stage tech startup
You have to have a strong passion for sales and sales processes.
Coachable, adaptable, accountable, problem-solving attitude, strong analytical skills, and ability to drive with data
Stellar written and oral communication skills
Highly analytical mindset, with a natural curiosity to measure, test, and iterate to get the best results
Motivated self-starter, with a bias for action, who thrives in a hyper-growth environment
A creative thinker, problem solver, collaborative mindset, and enthusiasm
An efficient, organized worker with exceptional time management skills
Are incredibly organized and efficient – you take on complex projects and are comfortable owning them from start to finish
Data-driven and research-oriented