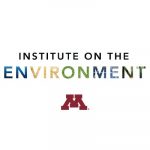 Website The Institute on the Environment
Location: Minneapolis, MN
Overview
The Institute on the Environment (IonE) seeks to lead the way toward a future in which people and the environment prosper together. At IonE, we collaborate with diverse external partners while bringing different academic fields of expertise and ways of knowing together within the University.
Foundational to our organizational strategy and key to our impact is a community of affiliated researchers and educators, totaling more than 250 people from all UMN campuses and colleges as well as some external scholars/leaders. Through three Affiliate tracks (Associates, Fellows, Educators), we build the capacity of researchers and educators, from early career to those accomplished in their fields, from disciplines throughout the sciences, arts and humanities, and from across the UMN system. In so doing, we bring the tools of high-impact pedagogy and approaches to conducting interdisciplinary, collaborative, user-focused research to our affiliates, to enhance their contributions to sustainability and regeneration.
At IonE, sustainability is a social, economic, and ecological state where the needs of all people are met in a way that sustains – and even restores – the natural world: where people and planet prosper together. A sustainable future includes clean energy and water, preservation of diverse ecosystems, and healthy communities. We strive to center diversity, equity, inclusion, and justice (DEIJ) in our work, including centering the experiences of populations on the frontlines of the climate crisis, as part of striving towards being an anti-racist organization. We seek an engagement professional who's excited about helping to build a just, sustainable future and sees the role of public research universities in addressing complex challenges.
We are seeking a program director to lead strategic development and implementation of efforts to achieve IonE's primary research, education, and community engagement aims through investment in our Affiliate community. The program director will, in collaboration with IonE's Management Team and our Faculty Leadership Council, create strategic direction for Affiliate programming, networking, and engagement initiatives. The program director will implement and innovate two cohort-based programs for early career scholars (Associates) and instructors (Educators), develop new ways to engage established scholars (Fellows) in the life of IonE, and create synergy among Affiliate programs.
This position will be in-person on the St. Paul campus with the opportunity for regular remote/virtual work. Salary range is $66k-$78k depending on experience. For the right person, there is opportunity to grow the program and pursue career advancement/promotion.
Qualifications
Advanced degree (MA/MS, Ph.D, etc.) + 4 years experience in relevant program development or implementation activities – ideally faculty development – but transferable skills from leadership development, talent development, human resource management, mentoring, developing teams, organizing, network- or cohort-building, teaching, training, etc. would also be valued.
Educational mindset and a capacity to enhance the learning and professional development of others
Knowledge of effective methods and practices of facilitating growth in adult learners
Commitment to work collaboratively with faculty, staff, student, and community colleagues to facilitate program design, development and administration.
Experience in program strategy, design and implementation
Public speaking, training, presentation, and/or facilitation skills
Ability to seamlessly shift from specific detail-oriented work to high-level strategic thinking and programming
Excellent organizational and time management ability
Excellent teamwork and collaboration skills
Effective written and oral communication skills
A demonstrated commitment to diversity and equity – and advancing an inclusive working and learning environment – is key to IonE's DEIJ strategy
Preferred Qualifications
Experience in higher educational setting
Experience working with faculty, scientists, or a distributed network of experts
Participation in programs related to the environment, sustainability, environmental justice, leadership, or interdisciplinary teaching and/or research
Commitment to/passion for the environment, sustainability and regeneration
Experience in evaluating programs
Experience in fundraising or collaborating with development/fundraising personnel
Enthusiasm for taking initiative and making projects one's own and strong capacity to work independently and flexibly in a context of continuously evolving tasks and responsibilities
***NOTE: This is a condensed job posting, for more comprehensive details about this opportunity and to apply please visit UMN's job site and search for keyword '347490'***