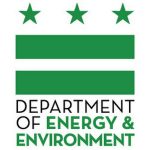 Website Department of Energy and Environment
Location: Washington DC
Salary Range: $94,858.00 – $122,227.00
Overview
The mission of the Department of Energy and Environment (DOEE) is to protect and restore the environment, conserve natural resources, and improve the quality of life in the District of Columbia. As the nation's capital city, the District will become a model of environmental protection and sustainable environmental practices. In partnership with other District agencies, the federal government, business groups, non-profit organizations, and residents, the department will help instill environmental awareness through innovation and best practices.
This Program Analyst position is located in the Energy Administration, Data and Benchmarking Division, Building Performance and Enforcement Branch. The incumbent of this position will serve as the Building Energy Performance Standards (BEPS) Outreach and Operations Lead by developing and building upon partnerships with key stakeholders and overseeing the implementation of a streamlined process for providing customer service and technical assistance to building owners attempting to comply with the BEPS requirements. The position will be integral to the implementation of the District's BEPS program by providing oversight over the day-to-day operations of the program and ensuring that building owners are connected to the proper technical and financial resources to comply with the BEPS requirements. Additionally, the Outreach and Operations Lead will be responsible for assisting with technical compliance reviews and maintaining the technical review process.
Duties and Responsibilities
The incumbent will provide the necessary guidance and leadership to ensure that milestones are met, and quantifiable progress is being made in implementing the BEPS program and advancing other Clean Energy DC initiatives. Serving as one of the main points of contact for the program, the incumbent will also provide recommendations during the BEPS rulemaking process and keep the District up to date on any changes within the building industry that may affect enforcement of program. Interact regularly with senior agency management staff and various community stakeholders.
Qualifications and Education
Experience that equipped the applicant with the particular knowledge, skills and abilities to perform successfully the duties of the position, and this is typically in or related to the work of the position to be filled.  To be creditable, at least one (1) year of specialized experience must have been equivalent to at least the next lower grade level in the normal line of progression for the occupation in the organization.
Experience using relational databases, customer service management software is strongly preferred.
Strong technical writing and computer skills, including the ability to conduct independent research and analyses highly desirable.