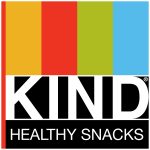 Website KIND
Location: New York, NY
Overview
Since 2004, KIND has been on a mission to create a kinder and healthier world – one snack and one act at a time. Its iconic KIND© bars – made with real, recognizable ingredients – sparked the growth of an entirely new healthy snacking category. Today, KIND has a family of more than 80 snacks that offer solutions for a variety of occasions. All of KIND's products lead with a nutrient-dense first ingredient – whole nuts, whole grains or whole fruit – and do not contain genetically engineered ingredients, sugar alcohols or artificial sweeteners.
Inspired by the belief that acts of kindness can be a transformative force for good, both the KIND brand and The KIND Foundation seek to inspire kindness and empathy.
We're looking for passionate collaborators to help us become the foremost leader in health & wellness and positively impact society along the way. If you're looking to be a part of an inspiring, energetic and entrepreneurial environment, you've found the right place.
Responsibilities
As the Manager, Sustainability Marketing you will be responsible for marketing KIND's environmental programming, which focuses on bee-friendly/regenerative almond farming, sustainable packaging, and carbon smart agriculture. From this specific perspective, your primary focus will be continuing to sustain and grow KIND's reputation as a purpose-driven brand. You will be responsible for overseeing the full marketing lifecycle for this critical element of KIND's purpose (sustainability). You will be responsible for ideating campaigns, overseeing ongoing engagement with various stakeholders, and execution. To ensure flawless execution, you will work closely with your counterparts in Marketing, including digital (organic, paid, search), influencer, earned media, omnichannel, and ks.com. You will also provide your technical counterparts with line of sight to emerging environmental issues that might help inform or shape KIND's strategy. And here's how you will do it….
You will own the communication and consumer facing marketing activation for a new, always-on regen agriculture project focused on almonds
You will help develop the marketing vision for at least 1-2 brand campaigns each year (specifically geared towards storytelling around our unique and differentiated sustainability programming)
For the relevant campaigns (sustainability only), you will be responsible for collaborating with the Marketing Leadership Team on the creation of campaign concepts; briefing your Marketing counterparts on the campaign's objectives and KPIs; and, identifying/managing for issues and risks
Outside of brand campaigns, you will provide insights for the business as it relates to potential sustainability positions that brand could take on or help elevate
You will have a rich understanding of the sustainability landscape, including familiarity and experience with a wide range of sustainability topics, from regenerative agriculture and sustainable packaging, specifically regarding how brands are talking about and addressing these topics
You will serve as the relationship manager and stakeholder engagement lead for relevant NGO, academic partners, etc. across all sustainability/environmental topics. This includes bee-friendly certifiers/verifiers, managing our relationship with UC Davis as well as those pertaining to thought leadership around regenerative agriculture. Includes involvement with Ellen MacArthur Foundation's Global Commitments and Sustainable Packaging Coalition
You will support storytelling around our purpose internally, ensuring our team is excited and energized by opportunities to live into and support our purpose (specifically as it relates to sustainability) and providing relevant resources to support them in informing others about our work
You will support the necessary impact tracking & reporting as it relates to environmental impact – this will range from customer questionnaires to social content/impact report development
You are…
An Owner: Accountable for your commitments and how you achieve results, always with an ownership mindset
A leader: who can excite and motivate their team to achieve, learn, and improve each day
Committed to Excellence: Meticulous about detail and accuracy while working effectively in a fast-paced environment
A Problem Solver: Forward thinking with a creative and solution-oriented approach
Self-Starter: confident and driven, with an entrepreneurial spirit and the ability to work autonomously
Collaborator: who anticipates and identifies emerging issues and works with team members to assist in the development and implementation of solutions
Flexible & Results Driven: Able to manage, adapt, and dynamically prioritize multiple work-streams with a positive attitude. Able to work under pressure and meet goals in a rapidly changing environment
KIND: Genuine in your desire to help make the world a kinder place, committing to always spreading and celebrating kindness
Qualifications
5-6 years of experience in the sustainability field
A Bachelor's Degree, preferably in Business, Marketing, Communications or similar area of focus
A track record of leadership translating strategies into action
Strong communication collaboration, and analytical skills
A high level of problem-solving ability including independent judgment and decision-making skills
Demonstrated leadership experience translating strategies and motivating a team to take action
Ability to manage time, multiple priorities, and handle a high volume of work
Advanced Knowledge of Microsoft Office applications Excel, Word, Power Point, and Outlook
Substantial ability to manage conflict and competing priorities
A deep passion for KIND's core values and mission