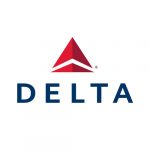 Website Delta Air Lines
Location: Atlanta, GA
Overview
Delta Air Lines (NYSE: DAL) is the U.S. global airline leader in safety, innovation, reliability and customer experience. Powered by our employees around the world, Delta has for a decade led the airline industry in operational excellence while maintaining our reputation for award-winning customer service. With our mission of connecting the people and cultures of the globe, Delta strives to foster understanding across a diverse world and serve as a force for social good. In this role, the right candidate will work closely with the SVP, Chief Sustainability Officer & Corporate Innovation and extended team, as well as our internal cross-functional partners to develop and deliver outcomes that align with Delta's global short and long-term business strategy. To be successful, this role will need to  operate at the senior levels within Delta.  The position will have responsibility for driving Board and C-Suite level priorities while overseeing partnership opportunities to meet our long-term objectives.
This is a newly created leadership position responsible for building a strategic vision for Delta's Sustainability & Corporate Innovation efforts.
Responsibilities
Lead the development and activation of a world-class strategy in support of Delta's Sustainability & Corporate Innovation efforts.
Help set the vision and define the overall sustainability and corporate innovation strategy for the company from launch to scale, including long-term goals to achieve consistent results and growth
Identify, recommend, and deliver strategies, plans, ideas, and partnership opportunities to maximize Delta's Sustainability & Corporate Innovation goals, as well as shareholder value
Work collaboratively with executive and senior management across divisions to identify and define the most essential strategic opportunities and challenges
Direct cross-functional teams to develop and maintain views of important industry trends, market dynamics, competitive benchmarking and indices to affirm or alter strategies as necessary
Partner across executive and divisional leadership to develop and execute cross functional and divisional strategies and plans
Distill key strategic themes, ideas, and opportunities into tangible executable, plans and initiatives
Steer multiple key initiatives by providing guidance on how to  define, accelerate, track and monitor results
Maintain responsibility for deliverables and timelines, shifting priorities as needed and managing stakeholder relationships and expectations
Support preparation of agendas / topics / materials for Board and other executive meetings in conjunction with other business leaders
Minimum Qualifications
Strong problem solver with ability to lead the team to push the solution and progress
Responsive and agile in a fast-paced, highly visible environment
Master's Degree in Business or equivalent years of experience
10+ years of demonstrated experience in developing and executing strategic planning or larger scale / cross-functional program management.
Ability to work effectively with senior leadership on C-Suite and Board topics to drive change and achieve strategic goals.
Executive presence to be an effective agent of change, leading through influence and vision across the enterprise translating the strategic plan into tangible and easily understood goals.
Experience researching external trends, sources, information to form perspectives / points of view / recommendations given quickly changing or ambiguous topics
Self-starter, demonstrating flexibility and adaptability in a fast-paced, dynamic team environment
Excellent written and oral communication skills
Embraces diverse people, thinking and styles
Consistently makes safety and security of self and others a priority
Where permitted by applicable law, must have received or be willing to receive the COVID-19 vaccine by date of hire to be considered for U.S.-based job, if not currently employed by Delta Air Lines, Inc.
Preferred Qualifications
10+ years of experience in large scale strategy development in areas of new technology, innovation, industry transformation
Experience with sustainability subjects such as carbon accounting, ESG, stakeholder engagement, and systems solutions