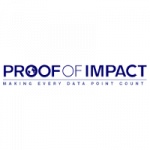 Website Proof of Impact
Location: Delaware
Overview:
The Marketing team tells the Proof of Impact story, determines messaging and positioning, and translates our products and features into tangible customer benefits. Marketing is responsible for acquiring new customer prospects at the top of the funnel and raising the overall awareness of POI with client prospects, potential investors, talent, and partners. Marketing is a highly cross-functional role and partners most closely with the Product, Sales, Data, and Design teams to help our prospects and customers grasp how we can help them tell their impact story.
As the Marketing Growth Manager, you'll be responsible for building brand awareness, driving prospects, and increasing community engagement through digital media, content marketing, webinars, conferences, and outbound email campaigns. You'll work closely and report directly to the founders of the company.
Responsibilities:
Developing, articulate and maintain Proof of Impact's marketing strategy and marketing plan
You'll lead, develop, and launch social strategies and campaigns across all Proof of Impact marketing platforms, identifying goals and performance metrics to track success; monitor and understand the effectiveness of the strategy and creativity; making recommendations for continuous improvement.
Track and optimize marketing performance – You use data to track and measure the success of experiments and develop KPIs
Acquire and process insights from the market and competition
Developing and own marketing budgets, expenditures, R&D, ROI, and P&L projections
Build and manage inbound strategies that attract a qualified audience into POIs funnels
Execute multi-channel customer acquisition strategies leveraging SEO, social, email, and inbound
Optimize marketing automation and lead nurturing processes across all channels
Build actionable marketing analytics containing clear metrics, tracking performance against key performance indicators and metrics as well as actionable advice and recommendations
Qualifications:
5+ years of experience in marketing strategy & execution
Marketing professional with deep experience in data-driven revenue maximization
Ability to convert a pipeline of in-network sales leads, into a data-driven growth funnel
Experience helping early-stage startups transition into the growth phase, professionalizing B2B SaaS marketing processes
Experience hiring and scaling a marketing team
The ability to design a growth plan across paid and unpaid channels, including content creation, customer education, and A/B testing as part of overall funnel optimization
Use marketing and sales campaigns to gather customer feedback that can help inform a customer-driven product roadmap
Build marketing strategies specific to both niche and broad B2B segments with expected high average revenue per user (ARPU)
Facilitate integration and automaton across Marketing, Product, Sales & Customer Success
Ability to assess market opportunity, segment the target market, and set aggressive but attainable growth goals.