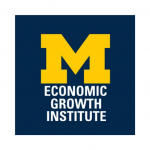 Website Economic Growth Institute at UM
Location: Remote
Overview
The Economic Growth Institute at the University of Michigan is seeking a talented student to assist with designing and implementing effective marketing plans and materials for launching new programs. The University of Michigan's Economic Growth Institute has recently received several new grant programs. EGI leads efforts to identify, recruit, and qualify small to medium sized manufacturers needing support in a variety of areas of business resiliency including cybersecurity, succession planning and the implementation of Industry 4.0 technologies. EGI is looking for a student to assist in launching and supporting these programs.
Responsibilities
Graduate Student Research Associate (Marketing) – This position works with the Project Manager and will be responsible for assisting with:
Developing and designing marketing plans for launching new programs.
Planning and implementing the marketing strategy
Supporting Project Manager on various day to day program activities
Developing and designing marketing outreach materials related to all areas of the project
Qualifications
Successful applicants should be currently enrolled in a graduate program with experience in marketing design.
Research Associates are expected to assist the Project Manager as well as other members of the project team in all aspects and stages of the work. The project requires students who can be creative and resourceful to utilize various marketing platforms to reach the target audience. The members of the project team are expected to be able to work independently and as a team. Members will be accountable to one another for assigned tasks and information gathered, and are expected to make contributions to the framework for organizing the work. The majority of the work will be conducted remotely.
Knowledge of and specific experience using some of the following software and programs is also a plus: Canva, Google Suite, Photoshop, and InDesign. Students wishing to work on Economic Growth Institute projects should exhibit excellent critical thinking skills, have the ability to work independently and in a team environment, high levels of self-motivation, excellent verbal and written communication skills, in addition to dependability, punctuality, attention to detail, and computer skills.
Details and Application Instructions
This is a remote position for Winter – Summer 2022for approximately 10-20 hours per week, with potential for additional work in Fall 2022.
Please submit resumes and indicate specific skills and interests. Please submit your resume via email to Kimberly Reid at kreid@umich.edu.