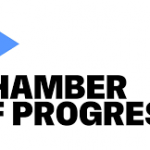 Website Chamber of Progress
Location: Washington, DC
Overview:
Chamber of Progress, a center-left tech industry association devoted to technology's progressive future, is seeking a Federal Public Policy Fellow for a nine-month term, beginning on or around January 2022.
Responsibilities:
Advance the organization's advocacy work on competition policy, data privacy, online speech and content moderation, and Internet marketplaces
Write letters, blog posts, statements, and testimony.
Support social media rapid response on regulatory news.
Support and directly engage with Administration officials, Members of Congress, and their staff on the organization's policy agenda.
Support and build political relationships with federal officials.
Qualifications: 
Bachelor's degree
Minimum of 2 years relevant work experience
Aggressive mindset and bias toward action
Experience in Democratic politics or progressive causes
Familiarity with tech policy
Outstanding writing abilities: Must be a creative, succinct, and fast writer
Remote work option available
Grant:
$6,000 monthly; Nine-month term
This role is an independent contracting position that does not include benefits