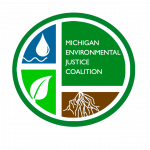 Website Michigan Environmental Justice Coalition
Location: Detroit, MI
Overview
The primary goal of this position is to lead in transformative change toward environmental and climate justice and to serve as a significant, positive catalyst in achieving environmental justice in Michigan. Overall, the Executive Director is expected to grow environmental justice leadership and landscape, building skills and resources to win on climate justice combining narrative, legislative, and electoral strategies. MEJC seeks to drive change through an intersectional movement approach, resourcing and networking grassroots leaders, training communities, and mobilizing a strong base. The Executive Director must use a bottom- up approach when making decisions and take strong decisive action when needed. Much of the position will involve policy acumen, building consensus and movement mobilization. The Executive Director is expected to include people directly in the movement building process, both internal and external to the MEJC. We believe that inclusive process is a non-negotiable dimension of mobilizing to win.
MEJC is highly focused on values of health, healing, and restorative justice for staff, MEJC members, and the community MEJC serves. MEJC strives to embody these values internally as well as with all members and allies. A committed Executive Director is expected to lead with transformative change models that highlight rest, restoration, whole-self thinking, care and safety of staff and members, and the proactive prevention of burn-out.
About Us
The Michigan Environmental Justice Coalition (MEJC) is a statewide coalition working to achieve a clean, healthy, and safe environment for Michigan's most vulnerable residents. MEJC works in alignment with the Principles of Environmental Justice through increasing knowledge, enhancing networks, and taking action for systemic change. We are a membership-led organization, which includes individual and organizational members from diverse skill sets, backgrounds, and identities. MEJC convened in 2011 to grow the environmental justice (EJ) movement in Michigan. Every two years, we host a statewide summit to bring together local EJ groups and leaders of color to strategize and amplify their fights. In 2020 we hosted the 4th statewide summit, led 3 major campaigns in energy democracy, toxics, and cumulative impact assessment, deployed 3 community action research projects, and engaged in the Get Out the Vote efforts in Michigan, reaching over 65,000 EJ voters. By 2023 we hope to define climate justice in Michigan for an ambitious climate agenda. MEJC is currently a sponsored project of the Allied Media Projects (AMP) in the process of becoming its own independent 501c3, and manages the sister organization Michigan Environmental Justice Coalition Action! a 501c4 administered by Allied Media Action Fund.
The Ideal Candidate
The ideal candidate is deeply committed to environmental justice (EJ) and a frontline leadership approach. The candidate will have a strong and genuine focus on transformative change. The ideal candidate will support the values of transformation, and uprooting of harmful systems that create the conditions for racial capitalism, patriarchy, ableism, and colonialism to exist. MEJC takes pride in an unapologetic approach to challenging systemic oppression and corporate domination, fossil fuel extractivism, and false solutions. The Executive Director of MEJC fosters radical change through their leadership, guidance, and oversight of all operations at MEJC. The ideal candidate must bring an ability to influence and grow public and political support for MEJC's mission to achieve a clean, healthy, and safe environment for Michigan's most vulnerable residents in alignment with environmental justice principles. The Executive Director will be skilled at engendering a balance across the following actions: responding to the urgent needs of the climate crisis; building consensus across communities to identify and move on points of unity; ensuring the impacted people lead and inform the process; and push our movements forward to meet the scale and scope of the climate crisis. The Executive Director will have the discernment to say no to anything (funding, media coverage, acclaim) for the sake of protecting the exercise of MEJC's values. MEJC will not compromise on the radical change it seeks, even if it means a missed monetary opportunity. MEJC is committed to mission over money. The Executive Director will embody values of health, healing, and restorative justice for staff, MEJC members, and the communities MEJC serves.
What You Will Do
Organize
Grow the membership of MEJC through partnerships with grassroots leadership across the state of Michigan; growing and training the base and network of activists and leaders, preparing for mass movement.

Listen, engage, and empower people across communities and social justice movements – focusing not only on environmental justice, but on its intersection with other people who are struggling for our collective liberation.
Manage the very delicate balance for MEJC's determinant action – if the process is too fast, it can leave people out of the process, but if it is too slow the process becomes stuck and stagnant, and action is not accomplished.
Ensure that MEJC has a long-range strategy for achieving its mission toward which it makes consistent and timely progress.
Deploy multiple strategies for movement building (media, policy, field, healing justice, and electoral strategies simultaneously) with effective and appropriate social movement technologies and training for staff

Maintain an in-depth working knowledge of significant developments and trends related to environmental justice communities
Direct staff to implement key strategies

Manage policy staff and organizers to work in alignment
Work closely with national partners to vertically align national and local strategies, like Climate Justice Alliance and Equitable, and Just Climate Platform to maintain the health of the EJ movement
Engage as needed in local fights to support leaders and residents in EJ communities
Establish and preserve sound working relationships with community groups and large organizations aligned with MEJC.
Hold big greens, frenemies and other organizations accountable for their decisions that impact EJ communities
Administer
Provide leadership in developing program, organizational, and financial plans for three "departments" (Operations, Policy and Organizing) within MEJC.

Maintain official records and documents to ensure compliance with federal, state and local regulations.
Communicate the activities of MEJC, its efforts, updates, and goals, to stakeholders and the community at large.
Learn and utilize programmatic software systems including but not limited to Slack, Asana, Salesforce, and QuickBooks.

Encourage and ensure each team member's professional development, empowerment, health, and safety.

Attract and retain dynamic leaders to the MEJC staff committed to Michigan's EJ movement
Work in partnership with MEJC team to co-develop iterative (emergent) work plans, and structure workloads that are ambitious and achievable; evaluate employee performance and enhance skills of each person.
Maintain a positive and compassionate work climate that attracts, keeps, and motivates a team traditionally marginalized by the mainstream environmental field.
Train/mentor/inspire staff, interns, youth and students for long-term, future leadership to sustain the movement
Liaise and manage the Board of Directors, train and unite leadership, and align with members strategically

Be responsible for developing and maintaining sound financial practices.

Work with the MEJC leadership team in preparing a budget and see that MEJC operates within budget guidelines.
Ensure that adequate funds are available from diversified funding sources.
Conduct official correspondence for MEJC with funders, prospecting leads, and forecasting political trends for future growth strategies.
Review and support the day-to-day operations of MEJC including project workflows, budgets, workgroups and committees, funding efforts, and organizational management.
Communicate
Represent MEJC at the local, regional, state, and national levels.

Speak directly with donors, government representatives, and members of the community.
Work with media to lift up the profile of Environmental Justice and climate justice in local and national media
Conduct non-violent direct action when necessary and timely

Interface with educational and political advocacy organizations, including a 501c4

Liaise between two legal entities MEJC Action! and MEJC to ensure the compliance with federal and state law, and AMP partnership agreements
Prepare and make presentations on behalf of MEJC to a wide variety of groups and organizations.
Ideal Qualities in Candidate
Executive leadership experience and skills (ideal if EJ-related orgs) – managing people /supervision, managing budgets, and program development.
Demonstrated commitment to Michigan and local community; willingness to move to Michigan for a minimum of 3 years.
Experience within electoral work, field, media, and campaigning and ability to define a "win".
Experience in fundraising.
Open enthusiasm for challenging status quo institutions and change or dismantle oppressive structures, and smash policies that impact environmental justice (Black, Indigenous, and other communities of the global majority).
Clear philosophical alignment with global social justice or climate/environmental justice, international human rights.
Understanding / background in movement building technologies, their applications, and their drawbacks and limitations.
Demonstrated track-record of collective decision-making, consensus building – exceptionally skilled at building common ground around large issues.
Social justice focused / social justice background, with 10+ years of experience in communities of color, and front-line communities.
Bottom-up leadership style, rather than top-down.
Prioritize interests of organization over self-interests – promotes the organization, not themselves (cannot be a 'celebrity leadership' where the position is used for their own self-interest as a steppingstone to another position); does not make the organization about them.
Committed to grassroots efforts – scaling things downward – instead of high rise, closer to nature – building collective agency with other organizations to strengthen rather than trying to create more power solely for MEJC.
Committed to intersectionality of all social justice movements – reflected in past work and experience.
Understanding of Michigan landscape – political, EJ issues, etc.
Understanding of EJ policy – 10 principles of EJ.
Thrive in handling multiple tasks and projects (able to excel under pressure with multiple projects and tasks going on) with executive leadership, clear communication, and astute directed and focused action.
Proven ability to move the needle for transformative change.
Focused on healing, caring, and restorative justice.
Willingness to dismantle the 'go go go' mentality to a 'go and flow'.
Positional Details and Compensation
This position is a full-time (40 hours a week) salaried position. The Executive Director must be able to work remotely / virtually until it is safe to return to an in-person setting. Safety is a top priority for MEJC as we navigate Covid-19 and our agency's policies and protocols, following federal standards.
MEJC strives for a workplace where team members are healthy, empowered, and safe. We value employee voice and insight and add a personal touch with everything we do for those who work at MEJC. We value good health insurance, cost of living, market rate salary, and a healthy work environment.
MEJC offers a competitive salary and benefits package that meets industry standards and Metro Detroit's cost of living standards. The pay range is $75,000-$85,000 annually, with annual raises. Salary is based on the candidate's knowledge, skills, and experience. The benefits package includes earned paid time off; holiday pay; medical, dental, vision; 403 (b) employer match; and parental leave.
Application Process
We strive for diverse representation and inclusion at MEJC. MEJC values applicants who are BIPOC, women, LGBTQIA and gender fluid people, people with disabilities, veterans, and members of other diverse identities. Equal employment opportunity: All qualified individuals will be considered for employment without regard to race, color, religion, sex, national origin, age, marital status, familial status, gender identity and expression, sexual orientation, or disability.
Persons interested in this position can submit the following materials to hr@michiganej.org:
A cover letter describing your interest in and qualifications for this position
A current resume
Letters of support/recommendation from the following- 1) mentor/mentee, 2) former supervisor, 3) former employee with their contact information.
Applications must include these materials to be considered. Please include your full name in the subject line of the email.
For questions regarding this announcement, or to request reasonable accommodation to participate in the application process, please call Maria at 616.204.5737 or email her at hr@michiganej.org. To be considered for an interview, please submit your application materials no later than 5 p.m. October 08, 2021.