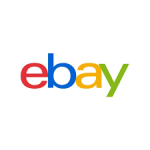 Website eBay
Location: Washington, DC; Atlanta, GA; Austin, TX; or remote
Overview
Looking for a company that inspires passion, courage and creativity, where you can be on the team shaping the future of global commerce? Want to shape how millions of people buy, sell, connect, and share around the world? If you're interested in joining a purpose driven community that is dedicated to crafting an ambitious and inclusive work environment, join eBay – a company you can be proud to be with.
eBay is a global commerce leader that allows you to craft how the world buys, sells, and gives. You'll be part of a work culture that's been genuinely committed to being purpose driven. Here, you can just be yourself, do your best work, and have a significant impact on people across the globe. We are looking for people with drive, ideas, and a passion for creating economic opportunity for all while helping shape the future of eBay! If this sounds like you, apply to join our team!
eBay is looking for an outstanding addition to our Sustainability team to play a pivotal role in driving eBay's Environmental, Social and Governance (ESG) strategy and programs. The ESG Strategy Lead will report directly to eBay's Chief Sustainability Officer and help craft and refine our ESG strategy to address our Impact goals and business-forward initiatives. This position requires a high level of knowledge across a wide range of ESG topics, including climate change, transportation, disclosure standards, circular commerce, partner engagement, ESG ratings and rankings and more. There will be a keen focus on integrating ESG into various business units to drive sustainability throughout our culture to create meaningful impact.
Responsibilities
Be a key contributor to the development and implementation of eBay's ESG strategy which includes meeting our Impact goals and defining consumer-facing sustainability initiatives.
Act as a sustainability authority and champion while collaborating with senior leaders to drive the integration of sustainability and ESG throughout the business.
Ensure that our ESG reporting aligns with company goals and reporting frameworks, such as the Task Force for Climate-related Financial Disclosures, GRI, Sustainable Accounting Standards Board/ International Sustainability Standards Board, UN Sustainable Development Goals etc.
Be an advisor to and assist with responding to ratings and rankings requests, questionnaires, surveys and filings, including: SEC, MSCI, ISS, Sustainalytics, CDP, S&P Global's Corporate Sustainability Assessment.
Support, refine and implement our internal and external strategy to reduce scope 1, 2 and 3 emissions; have strong knowledge of science based targets and net zero standards.
Contribute to achieving eBay's 2025 RE100 goal and prepare quarterly updates for senior management.
Present on the behalf of eBay at external sustainability, renewable energy and climate policy events as needed.
Manage vendors and memberships and participate in key partnerships as needed (e.g., CEBA, The Aspen Institute).
Skills & Proficiencies
Demonstrated experience in leading and managing critical initiatives from conceptualization to execution.
Strong written and verbal communications skills that reflect an ability to clarify and simplify complex issues and subject matters.
Knowledge of renewable energy, zero-emissions and electric vehicles initiatives preferred.
Experience engaging with multiple external stakeholders and driving progress to measurable results.
Willingness to travel, as needed.
Active user of eBay products.
Personal Qualities
Highly organized, fiercely committed to detail and outstanding quality; able to manage multiple overlapping projects switching between them as required.
A standout colleague who thrives in a collaborative setting who works well in a global, matrixed environment and contribute original thought.
Compassion, good emotional intelligence as well as cultural sensitivity.
Good sense of humor and ability to see work as fun.
Basic Qualifications
The successful candidate will have 10+ years of sustainability / ESG experience preferably in a global organization or consultancy within the retail, internet or technology sectors.
Bachelor's degree required. Master's degree preferred.