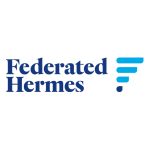 Website Federated Hermes
Location: Pittsburgh, PA
Overview
Since 1955, millions of investors in the United States and around the globe have relied on Federated Hermes, Inc. (NYSE: FHI) for world-class investment solutions. Federated Hermes has grown to become one of the nation's largest investment managers with over $600 billion in assets under management. Federated Hermes is a global leader in active responsible investing with one of the largest engagement and stewardship teams in the world representing over $1 trillion in assets under advisement.
Federated Hermes believes that integrating environmental, social and governance (ESG) factors into the investment process is key to delivering long-term sustainable wealth to its investors. The Responsible Investing Office (RIO) at Federated Hermes reports directly to the CEO and President of the Federated Advisory Companies and serves as a central hub of expertise in investment research, data analytics, active engagement, proxy voting and thought leadership in all areas of responsible investing. The RIO is growing and has an opportunity for an ESG Analyst located at our headquarters in Pittsburgh, Pennsylvania. The ESG Analyst is an essential member of the Responsible Investing Office which directly supports all Federated Hermes investment teams. This front office role concentrates on execution of formal and systematic methods of integrating ESG factors, sustainability research and corporate engagement across all asset classes and investment strategies.
Pittsburgh is one of the nation's most livable cities with a strong economy; lower cost of living than cities of similar size; entrepreneurial spirit; sense of community; superior academics and top research universities; and, vibrant arts, food, cultural and professional sports scenes. Federated Hermes is a company that fosters a strong collaborative culture and recognizes the strength of individual contribution. We are seeking an individual who is passionate about corporate sustainability, ESG principles, is a creative thinker and wants to contribute to a highly motivated team!
Responsibilities
Support the Director of Responsible Investing in advancing the integration and articulation of ESG and active engagement across all Federated Hermes investment teams and firm-wide initiatives.
Assist in the preparation, planning and execution of regular integration and engagement review meetings, working groups, and thematic presentations with all Federated Hermes investment teams and the EOS engagement division.
Serve as a member of the Sustainability Leaders Council and assist in the development and education of corporate sustainability initiatives, measurement and reporting systems.
Advance Federated Hermes' responsible investing thought leadership by co-authoring an array of original ESG research and content for internal and external publication.
Liaise with global responsible investing, advocacy and EOS stewardship team members, maintain proprietary ESG data and engagement analytics, and enhance sustainability research for each asset class.
Work with Director of Responsible Investing to assist in the customization of presentation materials, white papers, case studies and client reporting for all Federated Hermes investment strategies.
Conduct empirical research on sustainable investing industry trends, latest corporate disclosure academic research and regional regulatory frameworks and standards.
Interface with third-party ESG data providers and diligence their methodology and performance efficacy.
Assist Director of Responsible Investing as a supporting point of contact with internal business units including technology, human resources, marketing, product, legal, compliance, etc.
Promote Federated Hermes' proprietary ESG research, data analytics, active engagement practices and proxy voting guidelines.
Keep abreast of responsible investing trends by reading practitioner and academic research, attending conferences, and reporting best practices to appropriate investment teams.
Qualifications
Bachelor degree required; Post graduate degree strongly preferred; Corporate sustainability training and/or FSA/ESG certifications preferred.
5+ years' professional or academic experience in corporate sustainability, consulting or sustainable finance required.
Experience in corporate sustainability, ESG research, consulting and/or responsible investing required.
Proficiency in sustainability reporting, investment related analysis, writing and content creation required.
Experience working in a corporate sustainability department, consulting or investment firm strongly preferred.
Avid writer with experience in authoring original content including articles, white papers, presentations, research reports and academic publications.
Excellent time management and ability to effectively work independently and part of a diverse team.
Must possess exceptional attention to detail, analytical ability, critical thinking and problem solving skills.
Excellent oral communication, public speaking, diplomacy and experience presenting research results.
Ability to periodically travel between Federated Hermes offices and attend industry conferences.
Proficiency in Word, PowerPoint and Excel required. Proficiency in investment analytical tools such as Bloomberg and Factset strongly preferred.
Fluency in English, written and verbal, is required.