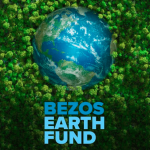 Website Bezos Earth Fund
Location: Washington, DC preferred
Overview
Created by Jeff Bezos with a $10 billion commitment, the largest philanthropic commitment ever made to fight climate change and protect nature, the Earth Fund is now building its senior team to ensure maximum transformative impact.
We believe that this is a truly decisive decade. Climate change poses an existential threat to humanity, and the destruction of nature is undermining the ecosystems upon which we depend. But along with risks come great opportunities. Smart, bold action on climate change and nature will not only prevent bad things from happening; it can also introduce new opportunities, making our economy more efficient, driving technological change, and reducing risks. Combined, these can lead to more jobs, healthier citizens, less injustice, and better lives. The Bezos Earth Fund was established to help drive these needed changes.
Responsibilities
The Director, Technology Acceleration will lead the Fund's work to identify high-leverage opportunities to accelerate commercialization of technologies the world needs to combat climate change and protect the natural world. They will partner with research and development organizations, corporations, governments, multilaterals, and other relevant players to catalyze swift momentum for promising technologies to be conceptualized, designed and tested; and when successful technologies emerge, create accelerated pathways to take them from RD&D through to commercialization. The Director will work with the President & CEO, the Vice President, Strategy and Programs, and a growing team to identify and design scalable programs, convene key partners, identify excellent organizations and projects, direct funding to high-impact initiatives, track results, and share knowledge. They will engage with experts and decision-makers and be open to new ideas and partners.  The Director will approach this work with a spirit of curiosity, collaboration, humility, and learning, while also focusing on results and being ambitious on behalf of the Fund's climate mission.
Examples of the kinds of technology areas that may be explored include (among others): Direct air capture technologies, electrofuels, long duration energy storage, methane capture technologies, microbial proteins as an alternative to meat, and technologies for measuring and mapping soil composition.
Qualifications
The successful candidate will have a strong understanding of technology and how it applies to climate solutions and experience working in an international context. Professional presence and the ability to interact effectively with leaders in government, business, philanthropy, and civil society are also of great importance. The ideal candidate will have a minimum of 15 years of relevant professional experience that demonstrates intellectual, strategic, and managerial leadership. They should have a graduate degree in a relevant field.