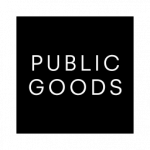 Website Public Goods
Location: New York, NY
Overview
Public Goods is building a destination for consumers who care about their impact. We're looking for kind, mission-driven people who want to work with high-performing and highly collaborative teams — people who want to make a visible impact on the company and, ultimately, the world. We're growing fast and have investors who've backed category-defining businesses such as Peloton, Kickstarter, and Etsy.
Sustainability is a huge deal for us. Our environmental initiatives run deep and go beyond our successful tree-planting program. We donate to food banks, partner with leaders in the fight against deforestation and hunger, design products with smaller carbon footprints, and carbon offset 100% of shipments.
Public Goods is looking for a passionate leader to join our team and further build upon our environmental and sustainability initiatives. The ideal candidate must have strong business and sustainability acumen, project management skills, a passion for transformative change, and an ability to work cross-functionally in driving solutions.
What You'll Do
Develop and implement sustainability strategies. Build reporting systems and maintain tools to benchmark and track Public Goods' progress against key sustainability goals, ratings, and frameworks.
Generate annual Sustainability reports and ad hoc reports as needed for internal and external stakeholders, including CEO and investors.
Evaluate and project manage onboarding of third party certifications/partnerships relevant to Public Goods's sustainability mission (B Corp Certification, UN SDGs, etc)
Provide strategic recommendations related to environmentally preferred materials.
Collaborate with and influence internal and external teams including PR, product development, marketing, sales and HR departments to shape messaging around sustainability initiatives.
Maintain current working knowledge of, and ensure compliance with, all applicable local, state, federal, and internal environmental laws and regulations.
Ensure that Public Goods upholds and works towards finding new, innovative and economically sound ways to stay green.
Work with product teams to manage certification and validation of sustainable materials and processes.
Who You Are
5+ years of experience in Sustainability. Preferably within a consumer-packaged goods (CPG) company.
Bachelor's degree in related field required; Masters degree highly preferred.
You are well-versed in environmental and social sustainability best practices and informed of the latest consumer and commercial trends as they relate to sustainability.
Outstanding organizational skills with demonstrated ability to prioritize workload and attention to detail. Able to balance short term tactical work with long term strategy.
Excellent written and oral communication skills with the proven ability to communicate with all levels of management.
Ability to persuade and influence without having direct authority.