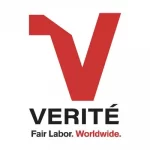 Website Verite
Location: Remote with a preference for US Eastern time zone, with occasional travel to our headquarters in Amherst, MA
Overview:
Verité is a growing, award-winning non-profit organization that illuminates and addresses serious human rights and labor rights violations in factories, farms, and other workplaces around the world. We serve private- and public-sector clients by building their understanding of labor rights problems in global supply chains and developing their abilities to solve those problems.
Role
This is a new position, responsible for extending and deepening Verité's portfolio of advocacy work on policy matters that impact labor rights enforcement and supply chain regulation. The Director of Policy Advocacy will collaborate closely with colleagues across the organization to ensure that Verité's work is translated into wider impact by leveraging the authority, scale, and resources of governments, international agencies, and other institutions, in service of labor rights in global supply chains.
Responsibilities 
Design and lead Verité's advocacy for creation and implementation of supply chain due diligence and transparency measures by governments worldwide, as well as more effective government procurement approaches that support labor rights.
Lead Verité's work in promoting a global ban on the trade in goods made with forced labor, along with other trade mechanisms to protect worker rights.
Promote labor migration policy reform in the US and elsewhere, and coordinate Verité's support of anti-trafficking efforts by the US and other governments.
Represent Verité, and/or support colleagues to do so, in various policy coalitions, and engage with a wide range of stakeholder groups in the global labor, human rights, ESG, and sustainability arenas.
Work closely with Verité's program and communications staff to ensure that Verité's expertise and insights are shared with policy makers and implementers, civil society groups, coalitions, international agencies, and other stakeholders.
Support efforts to influence the way that private sector actors engage in policy advocacy for labor rights and related matters.
Other related duties as assigned.
Required Qualifications
A commitment to the changes needed to create just and equitable working conditions around the world, and to working closely and collaboratively with stakeholders to achieve this change.
At least ten years of direct experience with various forms of advocacy.
Strong English language writing and editing skills.
Legally authorized to work in the US indefinitely.
Demonstrated organizational and project management skills, and attention to detail.
Self-driven and able to work effectively both independently and collaboratively as part of multiple teams in a fast-paced environment.
Preferred Qualifications
Foreign language fluency is valued.
Experience with advocacy and collaborative work with civil society groups and governments outside the U.S. is highly desired.
Qualifications for all Verite positions
Demonstrates strong personal commitment to Verité's mission or related social justice objectives in human rights, labor issues, international law, or corporate social responsibility.
Demonstrates professional competency and/or personal experience thinking and working effectively across boundaries.*
Demonstrates sensitivity and competency engaging with the diverse marginalized populations impacted by Verité's mission around the world.
Personal reliability and commitment to organizational success.
Maintains confidentiality in communications as appropriate.
Salary
$90,000 – $110,000 commensurate with qualifications and experience.
To Apply
Please submit a resume and a brief cover letter through the Verité application portal at www.verite.org/careers. No telephone or email inquiries will be accepted for this position.