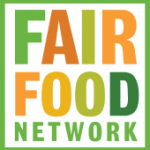 Website Fair Food Network
Location: Ann Arbor, MI
Overview:
Fair Food Network is a national nonprofit on a mission to connect people to the power of food to grow community health and wealth. From our work with nutrition incentives bringing healthy food within reach of every family with benefits to farmers and grocers to our impact investing arm, Fair Food Fund, which is reimaging capital in communities so that food entrepreneurs can be the engine of a more equitable future, we are growing a future where everyone can harness the power of food to transform their communities for good.
The Development Associate is a pivotal member of the Development team, with two distinct, but intertwined roles. The first is to manage and grow a portfolio of 15-20 institutional funders and funder prospects for the Fair Food Network's Double Up Food Bucks program which matches SNAP, or food stamp, dollars spent on fruits and vegetables. Double Up Food Bucks is a national model for healthy food incentives active in 29 states and growing. Double Up's track record of positive and proven impact for families and farmers in communities across the nation helped make federal support for incentives a permanent part of future farm bills. Management includes developing and executing development of engagement plans to qualify, cultivate, solicit and steward each funder/prospect. The second role is in support of the Nutrition Incentive Hub (Hub), created by the GusNIP National Training, Technical Assistance, Evaluation, and Information Center (NTAE), a coalition of partners that provides technical assistance and capacity building support to a growing a network of 40+ GusNIP grantees that operate SNAP incentive and/or produce prescription programs. The Development Associate be responsible for managing and facilitating the coalition's provision of training and technical assistance to the national field in the area of fundraising.
This position is full-time and is based in Ann Arbor, Michigan. Fair Food Network plans to re-open its offices under a hybrid work model mid-September. This position will be expected to work in the office at least 2 days/week. The Development Associate will report to the Senior Director of Development, Jaye Lopez Van Soest. This position is part of a growing department that includes the Investment Relations Officer and Grants Manager, and soon to be hired: a Development Coordinator and Grants Coordinator. The expected start date of this position is October 1, 2021.
Responsibilities:
Double Up Food Bucks:
Establish and build strong, authentic long-term partnerships with our funders.
Keep funders engaged and aware of the organization's work through regular communication, virtual and in-person meetings and small group events (when Covid-19 permits). Think creatively about new ways to engage donors more deeply in FFN's work.
Monitor portfolio activity and progress. Meet portfolio goals including budget goals, number of funder meetings and meaningful, monthly personalized funder contacts.
Partner with senior and program staff on engagement plans and consult with program staff to develop materials directed at prospects.
Maintain up-to-date and accurate database records for assigned funders, recording all interactions including detailed meeting reports.
Stay well-versed in the current work of FFN, locally and nationally, and describe many different areas of work in a way that is concise, compelling, and easy to understand for funders/prospects.
Complete all initial research on new funders and others as requested using Candid/FDO and other research tools, make recommendations for next steps, and prepare briefing profiles.
Generate and manage prospect lists in the donor database.
Proactively research and identify local, and regional grant opportunities that align with the mission and work of FFN.
Present new funding opportunities to Senior Director of Development for consideration.
Nutrition Incentive Hub:
Maintain and monitor communication channel(s) that facilitates the sharing of fundraising best practices between grantees (e.g. Slack).
Provide technical assistance and capacity building support to grantees in a variety of formats:
One-on-one coaching and assistance
Group webinars
Group training program
Develop resources that support grantees ability to raise match funds.
Facilitate the development of sessions at the Annual Nutrition Incentive Hub Convening.
General Support for Development Team:
Contribute to organization-wide discussions and the overall planning of the Development team, and other shared efforts as needed, support other administrative staff in answering phones, other duties as assigned.
Support requests for reporting updates from other FFN departments.
Qualifications:
3+ years of relevant professional experience. Experience with individual donor cultivation is strongly preferred, as is experience with nutrition incentives, specifically.
Commitment to the mission and values of FFN.
Demonstrated awareness and understanding of the inequities that touch the communities we serve. An ability to communicate FFN's commitment to equity and inclusion.
Ability to work effectively with remote team members and partners.
Demonstrated experience organizing and synthesizing information requests from multiple sources.
Strong project management skills. The ability to track on multiple projects and deadlines that are regularly evolving and manage internal and external stakeholders progress toward project goals.
Strong listening skills
Collaborative – works well with others at all levels of the organization as well as with key external stakeholders, interfacing with multiple internal and external collaborators
Comfort with online file sharing and other communications technologies and collaboration tools
Ability to maintain composure under pressure of competing priorities
Demonstrated ability to take initiative. You are self-directed and take appropriate action to influence outcomes and/or drive progress and positive change.
Experience with donor databases, Salesforce preferred
Experience with prospect research tools, Candid/FDO preferred