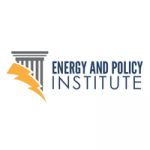 Website Energy and Policy Institute
Location: Remote/ Flexible within U.S.
Salary range: $95,000 to $105,000
Overview
The Energy and Policy Institute is seeking a deputy director who can support our team to hold the companies that are blocking climate and renewable energy progress accountable for their actions. The Deputy Director will supervise staff and guide much of the organization's day-to-day research to expose efforts to undermine clean energy progress and perpetuate energy injustice. They will also foster and manage many of EPI's relationships with partner organizations that are working for clean energy progress and energy justice.
About EPI:EPI is a watchdog group that exposes the anti-clean energy, anti-democracy behavior of fossil fuel companies, utilities, and their lobbying and public relations machines. Our team provides communities with the information they need to hold corporations and policymakers accountable when they advocate for cleaner and fairer energy systems.
Skills
Leadership and Management
Managing high-performing teams of journalists, researchers or policy advocates.
Managing diverse groups to work together across differences in identity and styles.
Listening to and mentoring colleagues.
Offering, receiving and integrating constructive feedback to and from colleagues.
Managing research and communication projects with many moving parts and external partners.
Subject Area Knowledge, Skills, and Experience
Investigative experience following money trails, filing public records requests, and digging through government records and datasets.
Communicating complex information in succinct ways that maximize impact on the political environment.
Working with journalists to pitch stories and provide relevant information.
An understanding of the basics of energy systems, including the electric power sector and oil and gas production and transportation. Technical expertise is not necessary, but a savvy assessment of the political dynamics around energy is a must.
An understanding of how energy systems contribute to inequity and injustice, particularly with regard to historically marginalized communities (including Black and Indigenous communities, other communities of color, and low-income communities), and can articulate why an equitable, just and rapid transition from fossil fuels to clean energy is crucial.
Ability to work independently. Our team is distributed; we collaborate and support each other, but each of us is responsible for creating and executing our own work plans without much supervision.
Ability to learn on the job is essential.
Experience building and cultivating relationships with allies in order to broaden the impact of your work.
You have demonstrated a commitment to diversity, equity, inclusion and justice in previous jobs or daily life.