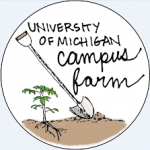 Website University of Michigan Campus Farm
Location: Ann Arbor, MI
Overview
The mission of the Campus Farm is to serve the greater University of Michigan community through the creation of authentic and high impact teaching and learning opportunities in sustainable food systems by increasing academic engagement and creating a learning community that fosters leadership development, diversity, equity, and inclusion and on farm carbon-neutrality centered around food grown by students for students. We are seeking a dynamic and self-motivated student to join our student-managed organization. The DEI Manager will report to the Lead Manager and the Campus Farm Program Manager (Jeremy Moghtader), as well as leading the Campus Farm DEI Committee, while serving as part of the Campus Farm Management Team and collaborating with other managers and Matthaei Botanical Garden and Nichols Arboretum DEI Manager and Committee to help integrate and highlight a DEI lens in all Campus Farm work and programs.
The DEI Manager is a part time student position in charge of implementing initiatives to foster a diverse, equitable, and inclusive environment for all Campus Farm managers, crew members, volunteers and program participants. They will constantly consider how Campus Farm processes and culture affect people of various backgrounds and how to make the farm a diverse welcoming and inclusive space. These backgrounds may be defined as or influenced by gender, race/ethnicity, religion, age, citizenship, ability/ disability, socioeconomic status, and more. In addition the DEI Manager will work with the Campus Farm team to develop, cultivate, and further collaborations that lead to workshops, events and other activities that encourage understanding of sustainable food systems and food justice in the context of DEI.  The DEI Manager's duties can be performed on the farm as well as remotely. The minimum time commitment of this position includes a combination of manager duties (2-5 hours/week) as well as weekly attendance at (2 hour) management team meetings (remote at this time). Managers are also encouraged, if possible, to take on at least one shift of regular farm work on site at the Campus Farm (up to 4-10 additional hours of work a week for a total of 10-16 hours per week)
Mission Statement:
Here at the UM Campus Farm, our dedication to our core values that tie together community, sustainable food and academic excellence for the public good is inseparable from our commitment to diversity, equity, and inclusion (DEI). In fact, DEI is a lens to innovation as we continue to be a 21st-century, living-learning laboratory for all students, faculty, and staff that is inclusive and works for equity.  
Duties
Attend weekly management meetings

Organize and chair Campus Farm DEI Committee to meet regularly to brainstorm, develop and execute new ideas, initiatives, partnerships as well as carry out existing ones

Continue DEIJ professional development by attending training or workshops related to anti-racisms, DEIJ facilitation, community engagement etc…at least once a year

Conduct DEI workplace climate and demographic surveys at least once every academic year and utilize information gained to promote a diverse, equitable, and inclusive culture at the CF

Organize, lead, and facilitate DEI related activities/workshops for CF staff and program participants

Collaboratively co-create, organize, and facilitate campus events with partner organizations that increase understanding of DEI in the context of sustainable food systems and food justice issues 

Meet regularly with Matthaei-Nichols DEI Manager (Ivana Lopez Espinosa) and MBGNA DEI committee to cross support, co-develop and synergize DEI work at Campus Farm and in the greater MBGNA Community.

Participate in and pursue equitable and responsible food justice opportunities co-created with community partners in SE MI. 

Work with CF managers and team members to help ensure DEI is centered in all our approaches towards work, interactions, and communications
Skills and Qualifications
Open-mindedness and a willingness to learn new things and perspectives

Personable, good written, and verbal communication skills

Self-aware of own identities, biases, and privileges 

Well organized 

Good time-management with awareness of and ability to meet  project deadlines 

Highly dependable with minimal/no-supervision

Strong commitment to Diversity, Equity, and Inclusion

*Prior knowledge and experience working with DEI programs is a strong plus!
Application Details
To apply send a Cover Letter and Resume to cfmanagers@umich.edu
We plan for the Position to Start in February 2022 to allow training by our outgoing manager and for the incoming manager's independent success starting in summer 2022.
We are seeking candidates who can provide commitment to the position through the end of winter term (April) 2023.  
Core job duties can be performed entirely remotely during summer term or as needed.