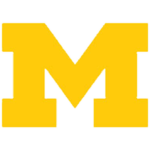 Website The University of Michigan
Location: Ann Arbor, MI
Overview
The University Career Center inspires and supports students to transition confidently beyond the University of Michigan by creating a dynamic space to gain clarity through their process of self-discovery. The University Career Center serves about 17,000 unique clients annually, through appointments, workshops, events, career technology and its resources.
Contribute in a large, comprehensive, fast-paced, career services office with duties related to a variety of career-related and student maturation issues including self-discovery and reflection, understanding the world of work, experiential learning, tapping into social networking venues, advanced education, and job and internship search issues. Utilize knowledge of the theory, current research and best practices in the knowledge domains of: student development, career development, student learning, decision making, learning styles, social identity development, leadership, multicultural counseling, counseling processes, evaluation tools, social media tools and job search processes.
Responsibilities
Career Counseling/Coaching 50%
Use and develop resource expertise, to educate students regarding access to educational, experiential, and multimedia career information to aid in their planning and life choices. Work with students to identify those experiences that will have meaning to them and encourage and support their participation in student organizations, community service, employment, research or creative projects, and experiential learning in multiple sectors (profit, not-for-profit, public service, arts, as examples) as a way of learning more about themselves and the world of work.
Develop interesting ways of bringing the world of work to the students to help inform their thinking and develop clarity in their planning.
Utilize current technologies to demonstrate, for students, the power of social media and information management tools, and the ways in which they can incorporate these tools to their advantage.  Stay abreast of the full range of social media and other tools available to students and assist the Center in staying on the cutting edge in this area.
Assist students in understanding and reflecting on the transferability of their academic coursework as they explore possible next steps, and work with them to articulate the benefits of their academic preparation to multiple audiences.
Support students to be successful in the implementation of their job/educational choices through their presentation in resumes and in interviews, use of on and off-campus job search strategies, social media connections, employer/school selection, and negotiation of acceptance.
Promote the highest standards of the profession in accordance with the principles ethics, and standards of ACPA, NASPA, NACE, and CAS, and established good practice in Student Affairs.
Contribute to student learning, development, and enhanced educational experiences through working closely with them so they better understand the process of making thoughtful career decisions. Engage in counseling, advising, and coaching with clients at all phases of their career development.  Provide appropriate referrals for students to other agencies if assistance needed is beyond career counseling.
Work with students to help them understand the importance of self-knowledge to successfully translate their educational experiences into career choices that are congruent with becoming satisfied professionals who are able to fulfill the roles they wish to play as contributing members of an intercultural society.  Assist students in developing lifelong learning skills to prepare them to manage their careers after graduation.
Educate and assist students in developing abilities to reflect on learning; make informed decisions; shape a philosophy of life regarding their private and public goals, uncover their passions; and effectively utilize the array of career development and implementation skills.
Help students discover their strengths in the following areas:

intrapersonal (intellectual, realistic self-appraisal, self-esteem, clarified values, independence, spiritual awareness)
interpersonal (communication, collaboration, relationships, diversity, leadership)
citizenship (career choices, satisfying and productive personal lifestyles as contributing members of society, and achievement of personal and educational goals)
Design and implement initiatives utilizing knowledge of social identity theory and research to maximize participation of diverse campus community to create a positive learning environment for all students—includes an informed perspective regarding issues of race, ethnicity, gender orientation, sexual orientation, ability, and citizenship status, as examples.
Workshop/Presentation Facilitation 15%
Create and present interactive programs/workshops for diverse student audiences.
Utilize technology and presentation/facilitation best practices to engage audience and ensure workshop objectives  and learning outcomes are being met.
Facilitate small group dialogues around identified career topics, demonstrating sound facilitation and group leadership skills.
Assigned Project Area- 20%
Each coach takes on a special project area to own and execute. Potential project areas: UCC programming management, Diversity, Equity, and Inclusion engagement, liaison roles with campus offices and departments (such as Athletics, students with disabilities, etc), career track management.
Data Management  15%
Maintain accurate and timely records and statistical information on clients using computerized data system.
Required Qualifications
Master's degree in student affairs, counseling, social work, or a related field which includes the broad-based study of theory and research in career and student development, counseling, social identity, student learning, multicultural counseling, basic statistics to complement relevant skills sets
Minimum 1-year experience counseling, coaching or advising college students in one-on-one and/or small group settings, preferably with career-related issues (includes experience as an undergraduate and graduate internships/jobs/etc)
Experience utilizing current technology, social media and information management tools for creative service delivery
Experience presenting/facilitating/teaching small and large groups of students, demonstrating strong verbal communication skills
Broad understanding of the world of work and industry/economic trends
Desired Qualifications
Experience working in a fast-paced office environment
Experience with administration and interpretation of career assessment tools/tests