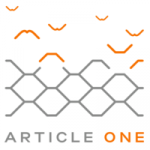 Website Article One
Location: Bay Area, CA
Overview
We are looking for an Associate, Human Rights & Responsible Innovation, to play a key role in delivering on our mission by supporting consulting projects and driving operational effectiveness. The successful candidate will bring an entrepreneurial and collaborative disposition, recognizing that as a small, but growing firm, we take an "all-hands on deck" approach.
As an Associate at Article One, you will work with leading global companies to advance respect for human rights and drive the responsible design and deployment of technology. Your primary focus will be supporting client projects, including through research, analysis, stakeholder interviews, and project management support.
The Associate role is a full-time position, based in Article One's Bay Area, California office. The role may require up to 30% travel once it is safe to travel following the pandemic.
Responsibilities
Project Support: The Associate will primarily work on client projects, including:
Conducting research and analysis, including on industry best practice, regulatory developments, and stakeholder expectations in human rights and responsible innovation;
Interviewing corporate clients and external stakeholders, such as NGO representatives and local communities;
Planning, coordinating, and supporting workshops and other events; and,
Developing and presenting client deliverables.
Communications and Events: The Associate will spend approximately 15% of their time supporting Article One's events and communications, including:
­ Organizing virtual and in-person Article One events;
­ Developing conference sessions and representing Article One at external events; and,
­ Developing blog posts and social media content.
Qualifications
The ideal candidate must be passionate and knowledgeable about human rights and responsible innovation, believe in the power of business to drive positive impacts, be able to thrive in an entrepreneurial environment and bring a client service mentality. Specific expectations include:
Demonstrated expertise in human rights, responsible innovation, or a related field;
2-4 years of relevant experience, with consulting or client service experience preferred;
Bachelor's or equivalent degree, with an advanced degree, preferred;
Strong oral and written communication skills;
Ability to conduct research and analysis suitable for a business audience;
Ability to undertake business travel about 30 percent of the time; including international travel; and,
High ethical standards, passion for driving responsible business practices, and a humble, collaborative, and empathetic approach to engagement with colleagues and clients.