Full Time - Undergraduate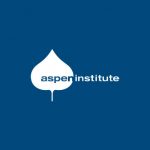 Website The Aspen Institute
Location: New York, NY
Overview:
Aspen Business and Society Program (BSP) seeks a visionary, curious, and tenacious leader, with expertise in leadership development, corporate sustainability, and strategy to manage The Aspen Institute Leaders Forum and the Aspen Institute First Movers Fellowship Program. The right candidate will have expert program design, facilitation, and community building skills. In running the Leaders Forum and First Movers Fellowship, the Associate Director will have full-time support from a senior associate and part- time support from a communications director and an events manager. We are open to candidates across the US, but will prioritize applicants based in the NYC area who can be in our NYC office at least two days per week to collaborate with colleagues. This position reports to the Deputy Director. The salary range for this position is $125,000- $150,000/year.
Responsibilities: 
Create a 3–5-year vision for how the Leaders Forum will evolve to serve the changing needs of ESG/Sustainability professionals and maintain a competitive edge in an increasingly crowded landscape of programs seeking to serve this market.
Assume responsibility for the First Movers Fellowship Program in close collaboration with the program and design teams.
Update the current five-year plan of the First Movers Fellowship program in collaboration with its current director.
Collaborate with other Aspen BSP staff to integrate the programming of the Leaders Forum and First Movers Fellowship with other BSP programs.
Produce high-quality, high-impact programming that is valued by Leaders Forum members and strengthens their engagement with the network. Content may include seminars and dialogues, "deep dives" on topics of immediate interest to members, multi-day retreats, site visits etc.
Oversee the design and execution of the First Movers Fellowship to build on 15 years of success.
Serve as master facilitator for in-person and virtual programs for First Mover Fellows and Leaders Forum members.
Develop and execute a plan to sustain and grow the membership base of the Leaders Forum to bring in more industry, demographic, and geographic diversity.
Serve as primary relationship manager for all Leaders Forum members.
Participate in the selection process for the 2024 class of First Mover Fellows and assume full responsibility for recruiting and selecting the 2025 class.
Explore opportunities to secure funding to sustain the First Movers alum community.
Publish insights from Aspen Leaders Forum and Aspen First Movers that continue to build BSP's reputation as a thought leader in the fields of business leadership, ESG, sustainability and entrepreneurship.
Manage program budgets and oversee timely billing of Leaders Forum members and First Mover Fellows.
Collaborate with or oversee other staff to deliver the programs.
Qualifications: 
Bachelor's degree required.
Minimum of 10 years of relevant experience.
Broad knowledge of – and passion for – corporate sustainability, leadership development, ESG and social innovation within business.
Superb facilitation skills. Demonstrate a track record of developing and facilitating programs that deliver lasting value for participants.
Sales and marketing experience. Have a proven track record of growing the revenues or financial support of a program.
Experience building either formal or informal communities of practice. We are especially interested in someone who has successfully scaled existing offerings.
Team player, able to collaborate closely with complementary Aspen BSP programs in business, leadership, and business education.
Outstanding interpersonal, oral, and written communication skills.
Upbeat, innovative, and curious.
Comfort traveling to in-person events around the US approximately 5-6 times per year.