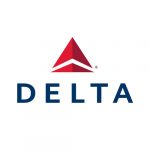 Website Delta Air Lines
Location: Atlanta, GA
Overview
Delta's Global Sustainability team is responsible for acting on Delta's environmental sustainability agenda and serves as the face of environmental stewardship for the company. The group has been charged with creating and executing on a long-term strategic plan for sustainability and managing cross-divisional programs to expand carbon reduction efforts, invest in projects to remove carbon emissions from the atmosphere, and engage with internal and external stakeholders to maximize our global impact. The group is high-visibility and high-impact, interfacing across leadership levels to integrate sustainability practices into all of Delta's corporate programs.
As part of this, the team owns five critical functions that are fundamental to driving Delta's long-term success:
Long-term sustainability strategy and investment planning
Interfacing with business units on development / delivery of sustainability programs aligned to long-term strategy (e.g. carbon reduction, removal of carbon emissions, waste management, etc.)
Building / maintaining broad research base on key market trends (not limited to airline / travel space; inclusive of disruptions or developments in the environmental sustainability space)
Reporting to key stakeholders (external and internal) on financials, investment portfolio, and outcomes of initiatives
Managing the investments into Delta's carbon sequestering portfolio
Responsibilities
This role's primary responsibility will be supporting the team's goals with data aggregation, analysis, visualization, and presentation across the following use cases:
Goal and target development related to emissions production, sustainable activities, lifecycle emissions reduction, and other key measures of Delta's efforts around reducing its environmental impact
Tracking and measurement of environmental initiatives, especially operational initiatives centered around fuel burn reduction during flight
Annual reporting on progress the company has made against its environmental agenda—this includes the company's annual ESG report and survey responses (e.g., DJSI, CDP)
Beyond managing these efforts, the team member would support other regular or special initiatives within the Global Sustainability team, time-permitting. These topics could require general knowledge of finance, accounting, engineering, environmental science, and / or marketing.
Minimum Qualifications
Minimum of 3 years' professional experience managing projects involving analytics and business disciplines
Experience in developing business cases and high-level program implementation plans including milestones and progress measurement.
Demonstrates the ability to work independently and with limited guidance.
Demonstrates strong communication and interpersonal skills, allowing the candidate to work effectively with colleagues across all levels and divisions of Delta.
Proficient with Microsoft Excel, PowerPoint, Word, and Outlook.
Where permitted by applicable law, must have received or be willing to receive the COVID-19 vaccine by date of hire to be considered for U.S.-based job, if not currently employed by Delta Air Lines, Inc.
Preferred Qualifications
Proficiency with ETL tools (e.g., SQL, Alteryx), data analysis / visualization (e.g., SAS, R, Tableau), and other programming tools (e.g., Python) is preferred.
BA/BS/BSc Degree in a field related to data analysis (e.g., Mathematics, Statistics, Computer Science, Engineering, Management Information Systems), business / management (Accounting, Finance, Economics, Public Policy), or environmental sciences is preferred.