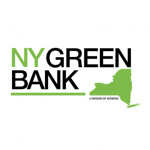 Website NY Green Bank
Location: New York, NY
Overview
NY Green Bank ("NYGB") is a globally recognized sustainable investment fund with the mission to accelerate clean energy and sustainable infrastructure deployment in New York State ("NYS" or the "State"). NYGB works to increase the size, volume and breadth of sustainable infrastructure investment activity throughout the State, expand the base of investors focused on NYS clean energy opportunities and increase market participants' access to capital on commercial terms. To achieve these objectives, NYGB collaborates with the private sector to develop transaction structures and methodologies that overcome typical clean energy investment barriers and serve as replicable models for other capital providers. NYGB is a division of the New York State Energy Research & Development Authority ("NYSERDA").
As of March 31, 2021, NYGB has invested more than $1.3 billion across a range of technologies including solar, wind, clean transportation, community distributed generation, energy storage, controlled environment agriculture, bioenergy, energy efficiency, and others. NYGB's investment activities demonstrate that many of the financial market barriers to sustainable infrastructure projects in NYS are surmountable.
NYGB's teammates are mission-driven, solutions-oriented professionals with:
Deep credit, risk, strategy, and operational expertise
Extensive project finance experience with a technical edge in clean energy and sustainable infrastructure finance
The team is committed to diversity, equity and inclusion and works with a wide range of clean energy market stakeholders with diverse interests and backgrounds – including through its effort to meet the goals of the Climate Leadership & Community Protection Act by investing in projects benefiting the State's disadvantaged communities.
NYGB seeks a highly motivated individual with excellent organization, analytic and communications/presentation skills for the Strategy, Impact and Investor Relations ("SIIR") team. This position will report to the SIIR Managing Director.
Key Responsibilities
Working closely with the SIIR team to support the full range of day-to-day activities with an emphasis on impact analysis and reporting, as well as targeted business development activities:
Analyze investment proposals and estimate environmental impact attributable to underlying projects
Develop investment reporting templates for impact reporting
Support portfolio environmental and financial market evaluation activities
Maintain environmental and financial impact database
Support the development of an expanded impact reporting framework for high-priority focus areas of NYGB
Draft regular stakeholder outreach communications (quarterly webinars, publicly filed materials, etc.) and respond tostakeholder inquiries (e.g., from NYSERDA, investors/regulator, Chamber staff, Regional Greenhouse Gas Initiativeand others)
Strategy, business development and investor relations special projects relating to NYGB's ongoing business andoperations
Research and drafting relating to NYGB's internal strategy around targeted business development opportunities
Coordination with industry groups and associations, development of materials including talking points, press releases,stakeholder notifications as needed
Perform other responsibilities as assigned.
Core Competencies and Experience
Strong verbal and written communication skills with the ability to articulate complex concepts
High competency in data analytics and management with an ability to aggregate and extrapolate information from various data sources and analytics reports
Action/results-oriented; able to work independently and as part of formal and informal teams; execute and get desired results; consistently gets things done in a timely and professional manner; honed attention to detail
Extensive proficiency in MS Office along with strong problem-solving skills
Able to handle a variety of projects in parallel; able to prioritize and keep all initiatives moving forward to meet deadlines; flexibility to move between projects including where priorities and objectives shift
Takes ownership of tasks, projects and relationships and follows through on obligations and promises
Unparalleled work ethic with the ability to perform under pressure and tight deadlines with a willingness to commit substantial time and energy to the success of NYGB
Adaptable, self-starter capable of taking on new and unfamiliar tasks as needed while working effectively in a dynamic, fluid and fast-paced organization
Involves the right people at the right time for optimal problem-solving and decision-making
Able to build trust and strong relationships across the organization
Experience in strategy consulting, communications, stakeholder management and engagement, and/or other similar areas is a plus
Experience working with Tableau or ArcGIS is a plus