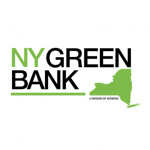 Website NY Green Bank
Location: New York, NY
Overview
NY Green Bank ("NYGB") is a globally recognized sustainable investment fund with the mission to accelerate clean energy and sustainable infrastructure deployment in New York State ("NYS" or the "State"). NYGB works to increase the size, volume and breadth of sustainable infrastructure investment activity throughout the State, expand the base of investors focused on NYS clean energy opportunities and increase market participants' access to capital on commercial terms. To achieve these objectives, NYGB collaborates with the private sector to develop transaction structures and methodologies that overcome typical clean energy investment barriers and serve as replicable models for other capital providers. NYGB is a division of the New York State Energy Research & Development Authority ("NYSERDA").
As of March 31, 2021, NYGB has invested more than $1.3 billion across a range of technologies including solar, wind, clean transportation, community distributed generation, energy storage, controlled environment agriculture, bioenergy, energy efficiency, and others. NYGB's investment activities demonstrate that many of the financial market barriers to sustainable infrastructure projects in NYS are surmountable.
NYGB's teammates are mission-driven, solutions-oriented professionals with:
Deep credit, risk, strategy, and operational expertise
Extensive project finance experience with a technical edge in clean energy and sustainable infrastructure finance
The team is committed to diversity, equity and inclusion and works with a wide range of clean energy market stakeholders with diverse interests and backgrounds – including through its effort to meet the goals of the Climate Leadership & Community Protection Act by investing in projects benefiting the State's disadvantaged communities.
Key Responsibilities
Working closely with the NYGB Operations & Finance team, support the full range of day-to-day operations activities across the organization with an emphasis on operational strategy, financial planning and analysis, fund administration, and related reporting/presentation of key data, findings and recommendations of these areas.
Operational strategy development and implementation
Assume day-to-day management in the assessment and identification of needed initiatives within NYGB operations with an eye toward optimization and improvements
Devise, implement and maintain new systems, protocols and/or practices (e.g., onboarding, CRM, optimization, etc.)
Communicate with and incorporate feedback from stakeholders including NYSERDA Management, NYGB Management and NYGB staff
Assist in the scoping, scheduling and execution of internal meetings and briefing sessions on key operational issues, practices and procedures, including current organizational and industry issues and best practices
Financial planning and analysis
Work with large financial data sets to perform regular analyses including those related to treasury-management, capital management. Analyses include weekly liquidity, monthly cash flow, monthly management reports, and capital status updates
Perform variance analyses
Project manage and perform analysis for annual budgeting and quarterly forecasting
Fund Administration and Accounting
Support the Director of Finance to prepare audited and unaudited financial statements
Work closely with NYGB's fund administration team to monitor, analyze and ensure proper accounting of NYGB portfolio and corporate activity. Monitor cash movements in fund accounts (e.g., perform reconciliations and investigations) to identify and resolve breaks
Ensure proper internal control measures are met, including to support wires, invoices and internal and external audit requests
Review monthly Net Asset Value determinations and related records to ensure accuracy and proper reporting
Analyze requests to modify transactions for impact to fund accounting, investment administration and financial planning and analysis as noted above
Monitor portfolio activity (e.g., notices) to ensure complete and organized records for every deal
Core Competencies and Experience
Previous experience with investment operations and/or project, structured or leveraged finance and investment is not required, but is a plus
Bachelor's degree
Team-player with demonstrated interest in sustainability / sustainable investments
Action/results-oriented: able to execute and get desired results, consistently gets things done in a timely and professional manner, honed attention to detail
Able to handle a large volume and variety of projects in parallel: able to prioritize and keep all initiatives moving forward to meet deadlines, flexibility to move between projects, including where priorities and objectives shift
Involve the right people at the right time for optimal problem-solving and decision-making
Strong analytical and problem-solving skills with extensive proficiency in MS Excel and other MS Office products including PowerPoint and Word, familiarity with portfolio management, accounting and client relationship management software or similar systems a plus
Able to build trust and strong relationships across (and outside) the organization
Strong verbal and written communication skills with the ability to articulate complex concepts