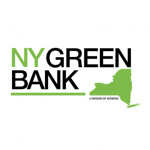 Website NY Green Bank
Location: New York, NY
Overview
NY Green Bank ("NYGB") is a globally recognized sustainable investment fund with the mission to accelerate clean energy and sustainable infrastructure deployment in New York State ("NYS" or the "State"). NYGB works to increase the size, volume and breadth of sustainable infrastructure investment activity throughout the State, expand the base of investors focused on NYS clean energy opportunities and increase market participants' access to capital on commercial terms. To achieve these objectives, NYGB collaborates with the private sector to develop transaction structures and methodologies that overcome typical clean energy investment barriers and serve as replicable models for other capital providers. NYGB is a division of the New York State Energy Research & Development Authority ("NYSERDA").
As of March 31, 2021, NYGB has invested more than $1.3 billion across a range of technologies including solar, wind, clean transportation, community distributed generation, energy storage, controlled environment agriculture, bioenergy, energy efficiency, and others. NYGB's investment activities demonstrate that many of the financial market barriers to sustainable infrastructure projects in NYS are surmountable.
NYGB's teammates are mission-driven, solutions-oriented professionals with:
Deep credit, risk, strategy, and operational expertise
Extensive project finance experience with a technical edge in clean energy and sustainable infrastructure finance
The team is committed to diversity, equity and inclusion and works with a wide range of clean energy market stakeholders with diverse interests and backgrounds – including through its effort to meet the goals of the Climate Leadership & Community Protection Act by investing in projects benefiting the State's disadvantaged communities.
NYGB seeks highly motivated, detailed-oriented individuals with excellent organizational, execution, analytic, and communication skills to work with the NYGB team in the critical role of Investment & Portfolio Management. These positions report to the Managing Directors of Investment & Portfolio Management. The individuals will work across the organization, including with the Risk & Compliance, Legal & Regulatory Affairs and Operations & Finance teams, as well as with external service providers.
Key Responsibilities
Transaction Origination
Participate in introductory calls with potential borrowers
Schedule follow up meetings
Present potential transactions to the transaction scoring committee
Transaction Execution
Participate in transaction due diligence in conjunction with external advisors and internal groups such as Risk & Compliance, Legal and Strategy, Impact & Investor Relations
Create financial models and run model scenarios
Draft approval memoranda
Portfolio Management
Prepare transaction onboarding documentation
Prepare monthly and quarter investment reviews
Process fundings and amendments
Manage and organize transaction files
Core Competencies & Experience
Experience with legal agreements for financial transactions helpful but not required
Experience with loan administration, compliance and/or portfolio management helpful but not required
Bachelor's degree
Strong verbal and written communication skills with the ability to articulate and succinctly summarize complex concepts
Strong analytical and problem-solving skills
Project management skills with exceptional attention to detail
Able to handle a large volume and variety of projects in parallel
Able to meet time sensitive deadlines
Takes ownership of tasks and projects and follows through on obligations and promises
Flexible and adaptable to changing organizational needs for the position
Constructively critical thinker
Solutions-oriented
Proficient in Microsoft Office; Microsoft SharePoint experience helpful but not required