Managing for Business and Societal Impacts: Erb Institute and World Environment Center Roundtable (Washington D.C)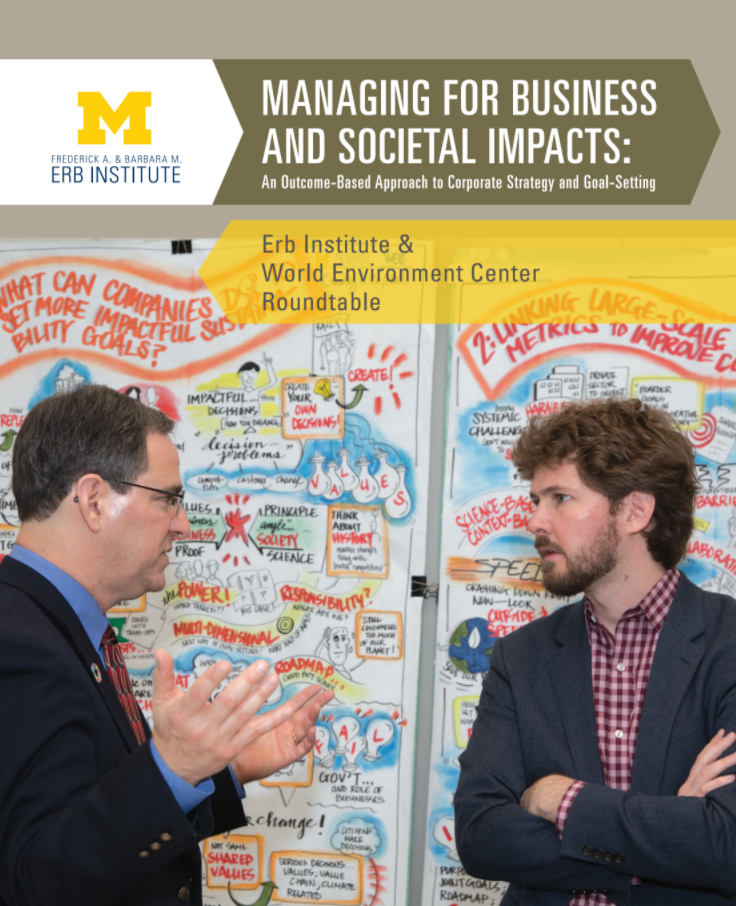 [vc_row type="in_container" full_screen_row_position="middle" scene_position="center" text_color="dark" text_align="left" overlay_strength="0.3″][vc_column column_padding="no-extra-padding" column_padding_position="all" background_color_opacity="1″ background_hover_color_opacity="1″ width="2/3″ tablet_text_alignment="default" phone_text_alignment="default"][vc_column_text]
The University of Michigan's Erb Institute for Sustainability in Business (Erb) and the World Environment Center (WEC) brought together 40 senior-level thought leaders and executives from business, academia, government and nonprofits, as well as selected Erb Institute students, for a roundtable discussion.
Held November 30 to December 1, 2017, in Washington, D.C., with support from the Dow Chemical Company, the roundtable was a highly interactive, peer-to-peer conversation, operating under Chatham House rules to foster honest and open dialogue.
The roundtable set out to explore these issues, focusing on three major themes:
Goal-setting for corporate sustainability: developing a clear connection between impacts and metrics to improve decision-making;
Identifying and confronting systemic challenges: forging new partnerships, facilitating learning, and more tightly integrating sustainability impacts with business
decision-making; and
Developing new business models: identifying approaches to business that balance social, environmental and economic objectives.
[/vc_column_text][/vc_column][vc_column column_padding="no-extra-padding" column_padding_position="all" background_color_opacity="1″ background_hover_color_opacity="1″ width="1/3″ tablet_text_alignment="default" phone_text_alignment="default"][image_with_animation image_url="19612″ alignment="right" animation="Fade In" box_shadow="large_depth" max_width="100%"][/vc_column][/vc_row][vc_row type="in_container" full_screen_row_position="middle" scene_position="center" text_color="dark" text_align="left" overlay_strength="0.3″][vc_column column_padding="no-extra-padding" column_padding_position="all" background_color_opacity="1″ background_hover_color_opacity="1″ width="1/1″ tablet_text_alignment="default" phone_text_alignment="default"][divider line_type="No Line" custom_height="20″][nectar_animated_title heading_tag="h6″ style="color-strip-reveal" color="Extra-Color-2″ text="Read the full text of the discussion in the .pdf below."][/vc_column][/vc_row][vc_row type="in_container" full_screen_row_position="middle" scene_position="center" text_color="dark" text_align="left" overlay_strength="0.3″][vc_column column_padding="no-extra-padding" column_padding_position="all" background_color_opacity="1″ background_hover_color_opacity="1″ width="1/1″ tablet_text_alignment="default" phone_text_alignment="default"][vc_column_text]
[/vc_column_text][/vc_column][/vc_row]