CPRT Expert Dialogue: Corporate Political Responsibility in "Thin" Political Markets
November 11, 2021 @ 10:00 am

-

11:15 am

EST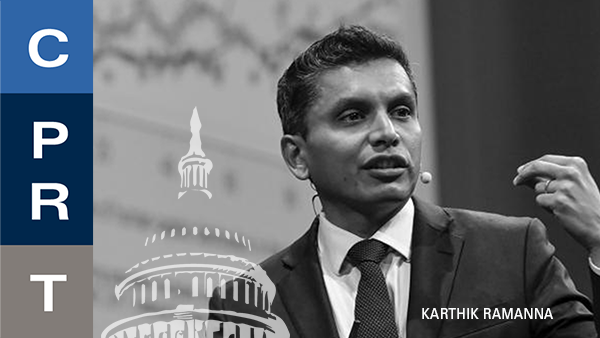 Corporate Political Responsibility in "Thin" Political Markets
A CPRT Expert Dialogue with Professor Karthik Ramanna of the Blavatnik School of Government at Oxford
As public trust in government plummets, businesses are increasingly pressed to help address civic, political and societal challenges. Yet some leaders are concerned about businesses displacing civic processes. How should leaders think about CPR (corporate political responsibility) in the face of weak civic institutions and low public trust? In his 2015 paper with Rebecca Henderson, Do Managers Have a Role to Play in Sustaining the Institutions of Capitalism?, Professor Ramanna argues that managers must define CPR differently in "thin" political markets. That is, where the public is not fully informed or adequately represented in decision-making, responsible corporate political influence must shift from narrow business interests to concern for the system overall. This raises several practical questions for executives:
What are "thin" political markets and how should business leaders think about CPR when civic institutions are not trusted?
Why should business leaders be concerned with designing market rules to serve the public good?
On what basis do business leaders influence society's institutions or contribute to reform?
Please join us for an in-depth conversation with Karthik Ramanna Professor of Business and Public Policy and Director of the Master of Public Policy at the Blavatnik School of Government at the University of Oxford.
The Corporate Political Responsibility Taskforce (CPRT) provides forums, foresight and frameworks to help companies better align their political influences with their commitments to values, purpose, sustainability and stakeholders. Our Expert Dialogues are in-depth, recorded conversations where our Expert Affiliates, Stakeholder Advisors, Network Partners and other colleagues share their expertise and answer questions about pressing CPR issues.
To learn more, click here or contact Elizabeth Doty.