Erb Workshop:
Justice should be an action, not only a core value
Instances of injustice lie everywhere—from workers' rights violations to pollution that disproportionately harms low-income communities of color. The Erb Institute recently convened the workshop "Building Connections for Business, Sustainability & Justice Research," bringing together scholars, corporate leaders and advocates to explore how research can inform solutions to pressing environmental, social and racial justice challenges.
People who operate in academia, business and advocacy may all be working toward the same goal of a more just society—but separately. This workshop explored areas where more collaboration could help spur meaningful action. The one day event set out to lay the foundation for a community of scholars who work at the intersection of business, sustainability and justice.
The day began with two panel discussions focused on specific areas: clean air and food. And in working sessions, scholars dug into challenges they face, resources that are helpful, and some possibilities they see to advance this work.
Clean air
Emissions are a high priority both for businesses working toward sustainability and for the environmental justice movement.
Raquel Garcia, executive director of Southwest Detroit Environmental Vision, was one of the "Catalyzing Clean Air Action" panelists. The organization is combating air quality problems in Southwest Detroit, particularly those caused by diesel trucks that idle there frequently. If there's an accident and traffic backs up while waiting to cross the Ambassador Bridge, 500 trucks may sit idling, exacerbating the already poor air quality in Southwest, Garcia explained. 
Ordinances that limit truck idling are critical to addressing this problem. Detroit lacks an adequate ordinance, so Southwest Detroit Environmental Vision has been pushing for one, but the draft has stalled with city officials. Corporate leadership could help spur action, and the organization could also use assistance with emissions assessments, Garcia said.
Much like "love" is a verb, Garcia said, "justice is an action."
Garcia shared that when confronted with the financial cost of idling trucks, some companies expressed surprise. This surprise may signal an opportunity to use the cost to prompt action.
Joel Howrani Heeres, director of Public Sector Consultants, explained that in Detroit, some basic unmet needs sometimes stand in the way of progress on sustainability efforts. For example, 30,000 houses in Detroit are in disrepair, and that need must be addressed before any efforts to electrify houses, he said.
Some suggestions emerged:
Business leaders and researchers should focus on how to affect people on the ground.

The Erb Institute and partners could build best practices from what others around the country are doing.

 

Erb students could help compile and assess other cities' truck ordinances.

Engagements with researchers that are more long-term than master's projects would be helpful.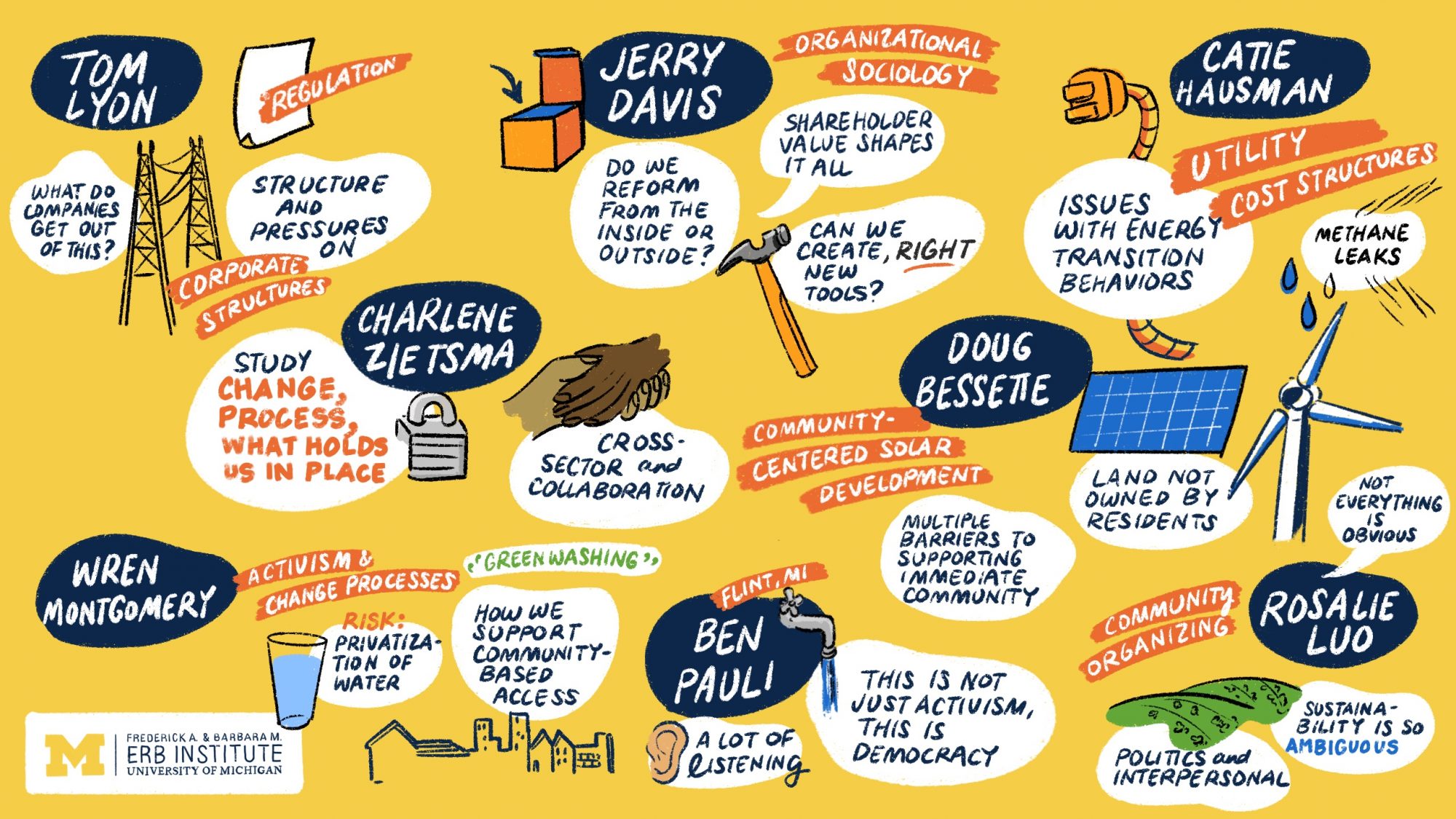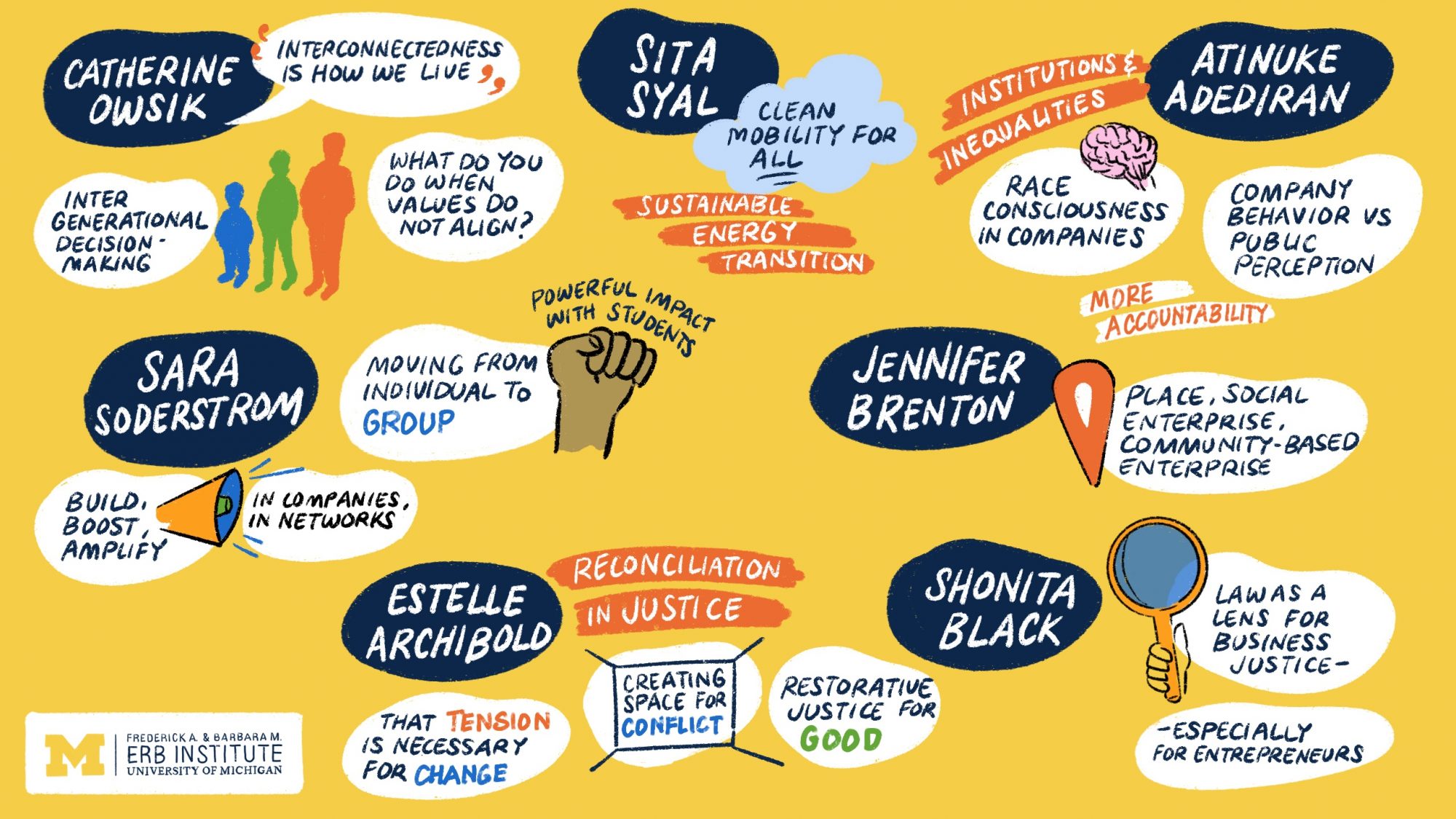 Food justice
Lack of food access is food apartheid, said one panelist in "Addressing Food Access and Security." shakara tyler, lecturer at the University of Michigan School for Environment and Sustainability, explained that justice needs to be built into the system. In trying to improve food security, justice involves shifting the power structure, giving power to the people who have lacked it and who have been oppressed, she said.
In Detroit, encouraging land ownership can shift power and build food security by enabling development of community-based urban agriculture. Because vacant lots in Detroit can sell for just $500 to $1,000, using resources to increase community members' land ownership would allow for greater food equity.
On the corporate side, Erik Petrovskis, director of environmental compliance and sustainability at Meijer, noted that Erb has expertise that would be helpful in supporting farmers, as well as in helping companies like Meijer evaluate their suppliers.
Lilly Fink Shapiro, program manager of the University of Michigan's Sustainable Food Systems Initiative, shared that the community-academic partnership course "Food Literacy for All" brings together members of the community beyond students, including chefs and farmers—and they attend for free. In this environment, useful knowledge gets disseminated beyond academic circles.
Considering the role that business might play in making a more just and sustainable food system, the panelists remarked on the effectiveness of food marketing, but how it's usually for junk food. Shapiro said this type of marketing ideally could be used for good—like stores marketing the healthy foods they sell, using research to drive policy. Petrovskis added that, along these lines, stores could educate consumers on where their food comes from, shining light on buyer-producer relationships.
The role of research 
Later in the worksop, scholars from across the United States and Canada shared some of their work at this intersection of business, sustainability and justice—including what their research has found and what gaps and opportunities need to be addressed. 
Some of the gaps, needs and challenges identified include:
Imbalanced distribution of resources and power

Not enough institutional support for meaningful work, and limited interest in justice

The difficulty of measuring real-world impacts

Gatekeeping—exclusive relationships

Tensions between global and local scales—difficulty connecting shared injustices across communities

How to bring business leaders into research projects

How to make this work joyous and inviting
Attendees also identified what resources, capacity-building tools, and solutions would be most helpful to facilitate cross-sector collaboration and interdisciplinary research to address these needs and opportunities. They include:
Workshops on early-stage ideas

 

A platform that recognizes research successes

 

A bridge between Detroit and Ann Arbor

Stronger ties to the global South

Meetings that bring together scholars and practitioners

Networks to link people working on similar issues in different places

Communication strategy for the research agenda—better storytelling

Executives in residence and activists in residence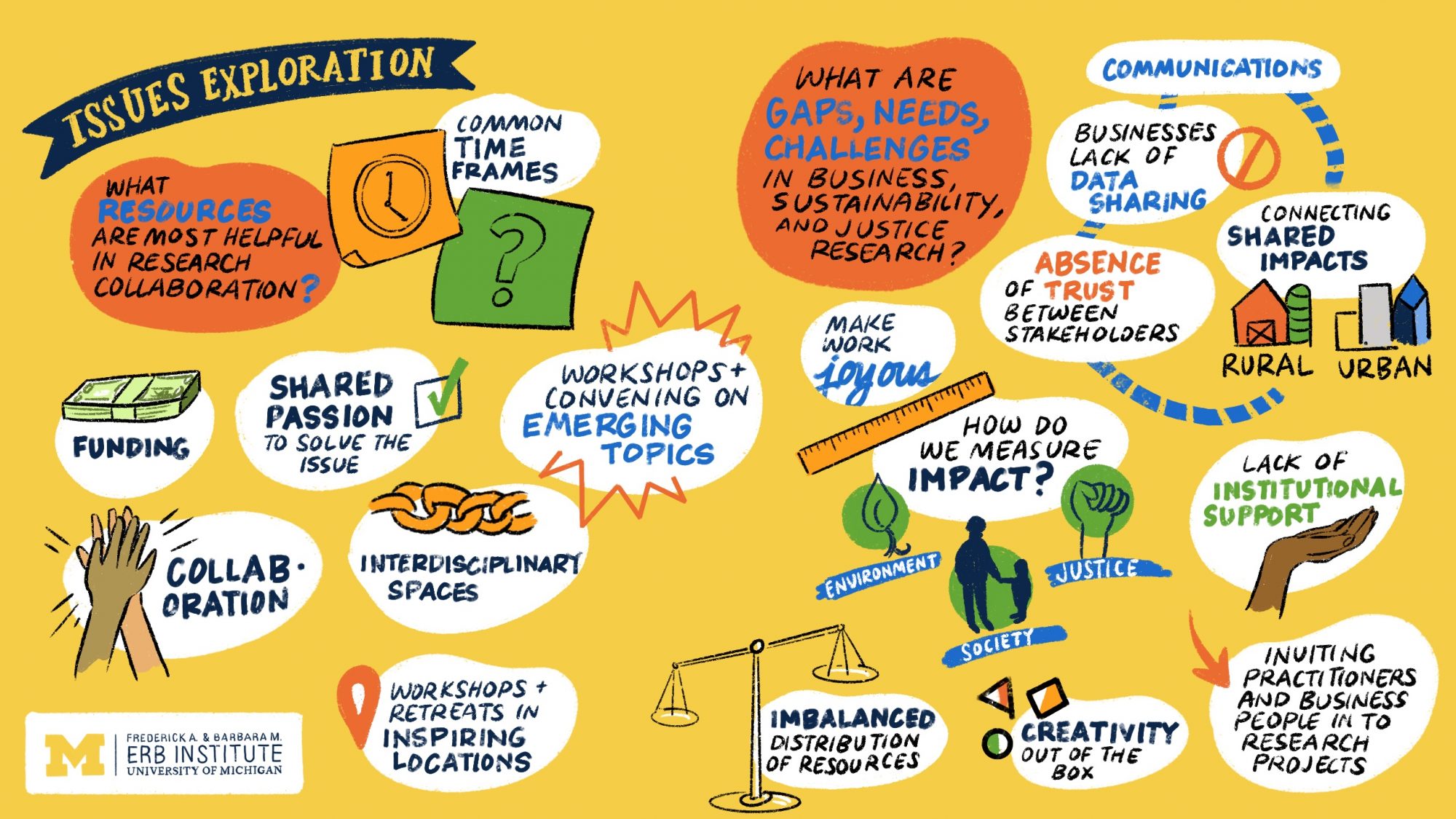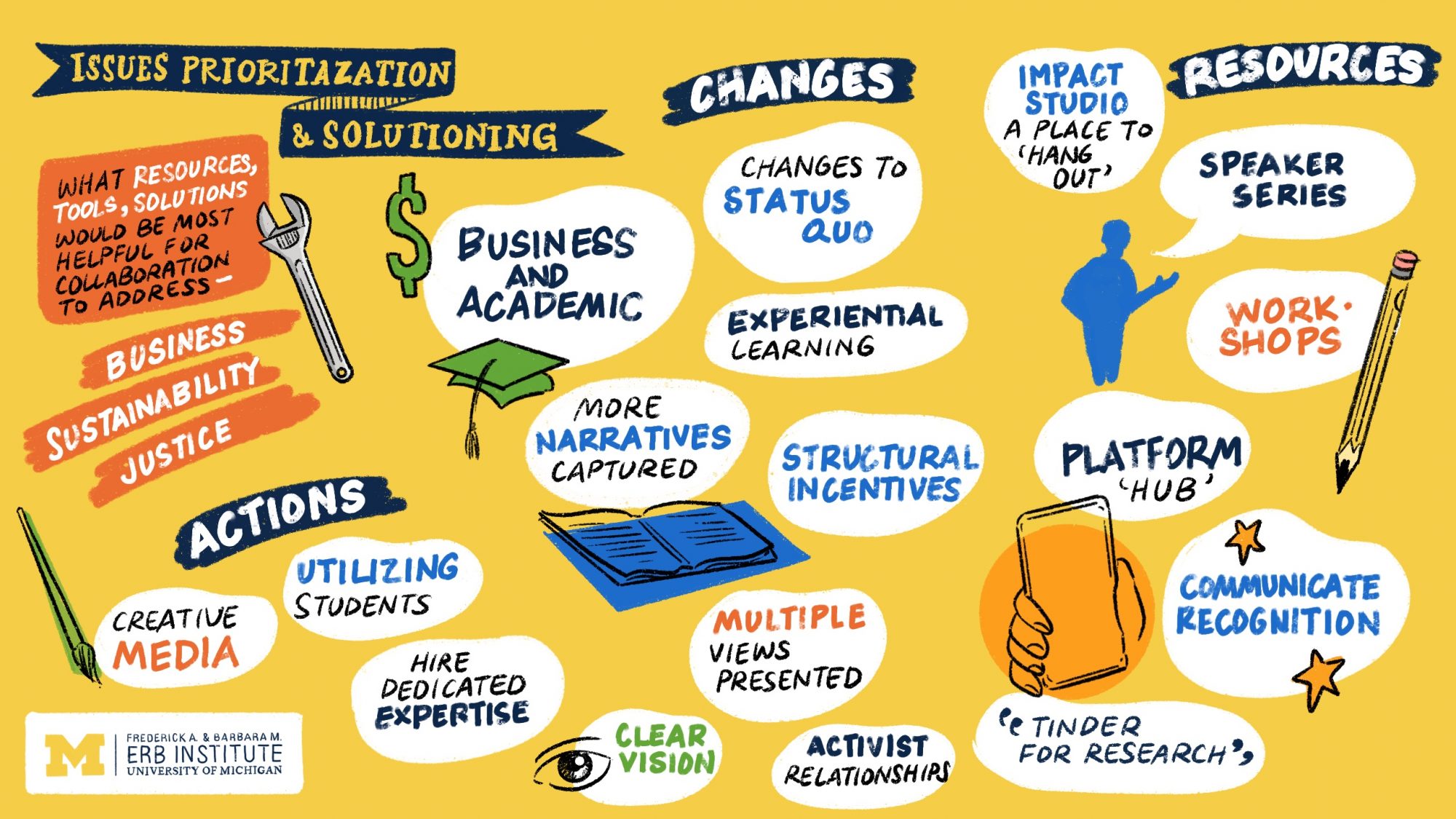 How could Erb contribute?
Throughout the workshop, some common themes emerged, and attendees pointed to ways that the Erb Institute can contribute and support work in this space—ways that Erb can make justice an action.
Erb could be a connector for business, sustainability and justice.
Erb can connect scholars with people on the ground, and this includes strengthening the institute's existing bridge to Detroit.
Attendees said that building networks upon networks of people in various roles can help move this work forward. Erb is well positioned to foster and support emerging networks, and to use its platform to host events that connect partners across different areas—and to include new voices in these conversations.
Erb could empower activists and community leaders. 
For example, a course like Food for All that invites the public in could make the business, sustainability and justice conversation more accessible to other community members, including activists. 
Attendees shared that disseminating research findings to the community through means other than academic publishing—such as podcasts—may help people on the ground more immediately. 
The workshop highlighted the value that advocacy leaders, business leaders and scholars bring to collaborative efforts—and ways the Erb Institute might help push justice further from a concept to an action.