Dow Sustainability Fellowship Experience:
Addressing Utility Burden in Detroit
Disproportionate utility burden in Detroit
Efficient, affordable housing is the bedrock for health, financial stability, and equitable, climate resilient neighborhoods. As a result of decades of systemic racism, low-income communities of color across the country tend to face the highest utility burdens, which can be defined as the percentage of income that is spent on gas, electric, and water bills. In low income communities, the average energy burden is 13% of a household's annual income compared to the national average of 7.2%. The burden increases to 17% for single parent homes with children in Detroit, and up to 30% for the most vulnerable. With Detroit's median household income at $29,481, this could leave families with $20,000 or less to cover rent, food, healthcare, and any other necessities for the entire family each year. There were more than 23,000 water shutoffs recorded in Detroit in 2019, and DTE reported more than 50,000 electric shutoffs in Q1 of 2020 alone.
Faced with high energy bills, families often have to make difficult decisions about which essential expenses to prioritize, which can result in tradeoffs between heat, food, or healthcare. Moreover, inefficient homes and degraded living conditions contribute to real health and safety issues, such as asthma and chronic stress and a risk of avoidable accidents. High utility burden can contribute to an increase in home foreclosures, since unpaid utility bills can lead to utility shutoffs which can trigger foreclosures. At the neighborhood level, these vacant homes can create blight in the neighborhood or can open the area up to gentrification, both eroding community vitality, identity, and property value. All of these factors reinforce cycles of systemic inequity.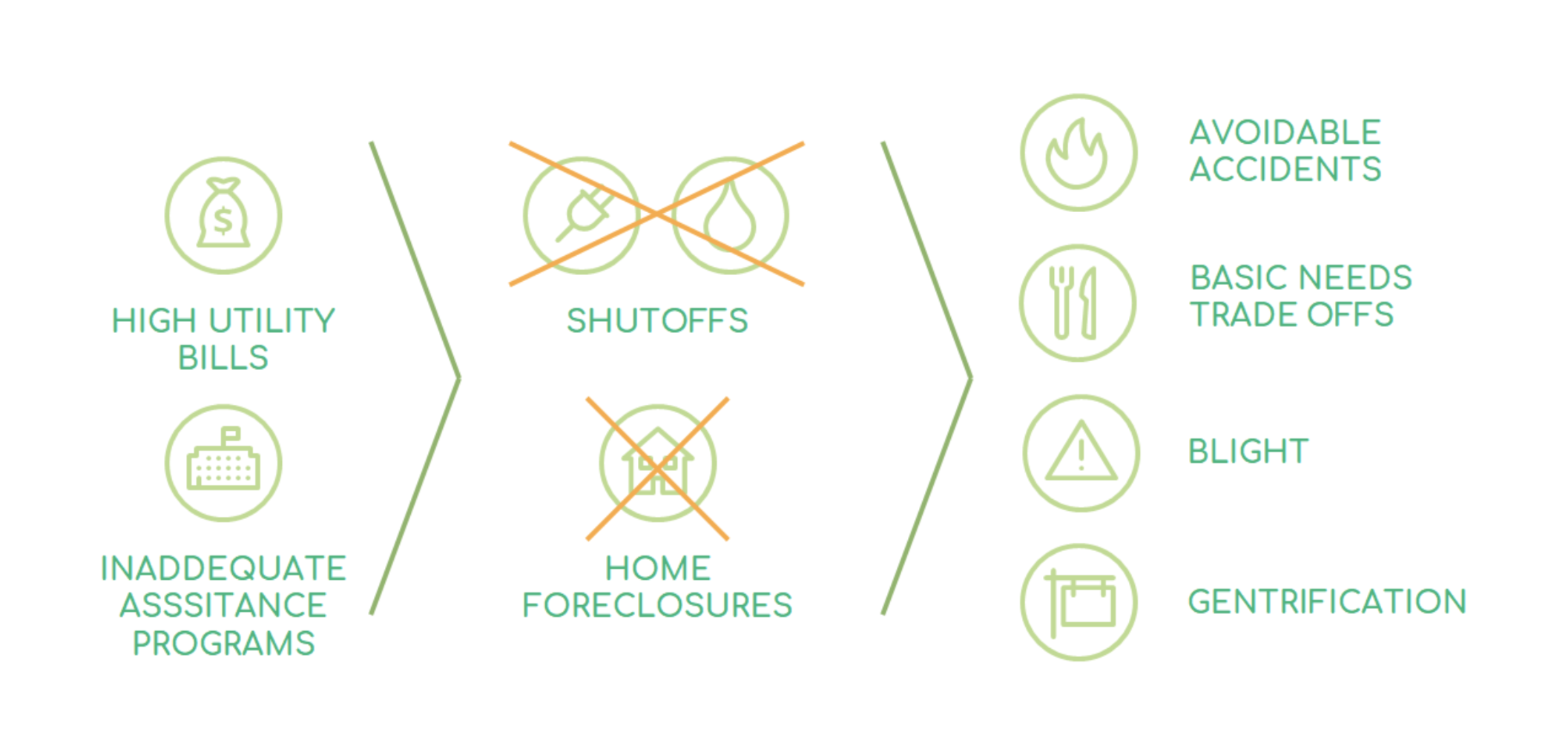 Where public and utility programs to address these utility burdens exist, there are barriers to participation and insufficient resources to meet the need. State and federal assistance programs offer some utility bill credits for low-income communities, but ultimately, these bill credits do not contribute to a long term reduction of utility bills. Federal weatherization funding is available, but is an arduous process with a two-year wait list in Detroit, and many homes are disqualified for health and safety issues, such as leaky roofs, lead paint, mold and asbestos – serious conditions that clearly need to be addressed and leaves those most in need without support. Utility rebate and assistance programs offer some bill assistance and direct-install options for low-income customers, but these are limited in scope and availability and often require upfront investment from homeowners. Some low-income loan programs exist, but these often have credit requirements and involve a financial risk that is too high for the families who are most in need. Moreover, navigating the requirements and application process for many disparate programs places a time burden on families that may be infeasible when heads of households are often working multiple jobs to keep up with the household's essential needs.
Theory of change
Clearly, low-income households need a mechanism to quickly and affordably retrofit their homes and make them highly efficient, healthy, and safe environments. In response, one Detroit organization – EcoWorks – has leveraged its energy expertise and community ties to develop a programmatic concept to reduce household utility burdens and to enable household and community self-sufficiency and resiliency.
The program – called Turnkey Home Retrofits (THR) – will create a new organizational entity to take on clients' utility bills, coordinate home assessment and installation of efficiency upgrades and home repairs, and manage applications for applicable rebate and credit programs. This program will be designed to address the gap of Detroit homeowners not served by existing programs, to minimize the burden of navigating a complex system of available rebates and credits, and to maximize the value brought to the homeowner. While THR would initially be piloted by EcoWorks and partner organizations, the vision is to eventually scale up to exist as an independent organization given the scope of the work.

THR will have three funding streams: 1) household monthly payments at a set percentage of income, with a goal of 7.5% 2) utility incentives and public assistance funds, and 3) social impact investments and grants from private investors and philanthropic institutions. Through rigorous evaluation, THR will establish a value for concrete social benefits, such as reduced asthma-induced hospitalizations, reduced carbon emissions, and reduced utility burdens and shutoffs. Investors, potentially including public health departments, clean energy investors, social service agencies, and hospital systems, would pay for proven outcomes; any surplus would be used to expand the program. 
Dow Sustainability Fellows Project
To bring this vision to life, our team of Dow Sustainability Fellows is supporting EcoWorks to refine and push this vision forward by creating a business plan to get the program off the ground. Our interdisciplinary team of masters students represents the University of Michigan's schools of Environment and Sustainability, Public Policy, Public Health, and Business, drawing on diverse professional experiences, personal interests, and academic coursework.
As part of our year-long project, we have been working since February to build out a financial viability model for THR, while our other two teammates develop a robust metrics and evaluation framework for the program. The financial model is a tool that EcoWorks can use to project the financial implications of the THR program and can be used interactively to evaluate varying cohort sizes and investment levels. The metrics and evaluation framework will be leveraged to demonstrate health outcomes, efficiency gains, financial savings, community education and outreach, and client satisfaction, particularly as a tool for securing grant funding and impact investments, as well as for identifying targeted improvements for the program. 
The deliverables of this project will be crucial to demonstrate the financial viability of the THR program to investors, philanthropic funders, and community partners alike. Without a clear understanding of the foundational budget constraints and financial implications, it will be impossible to get a program like this off the ground. If the THR model proves successful, the financial modeling tools and evaluation framework will also serve as comprehensive starting points for other organizations and local governments across the country that consider to implement similar programs to address utility affordability in their communities.
Concluding thoughts and path forward
Given the COVID-19 pandemic, which disproportionately affects communities of color, and ongoing environmental and structural racism, it is only becoming increasingly difficult for low-income residents to pay for household expenses. Moratoriums on shutoffs, such as Governor Whitmer's moratorium on water shutoffs across the state of Michigan during the COVID crisis, bring this issue to the forefront and create a band-aid solution in the short term. However, this does not address this issue in the long term or help families escape the cycle of poverty. 
It has become clear that the need for utility burden relief is significant and that the existing safety net is insufficient. This emphasizes the urgency for the development of programs, coordinating entities, and comprehensive strategies, such as that embodied by EcoWorks' envisioned THR until greater structural change, such as income based utility rates, can be achieved.