Thursday, June 7th
Decisions, decisions 
In the session "The Conscious Consumer vs. the Consumer Unconscious: Insights from Decision Neuroscience,"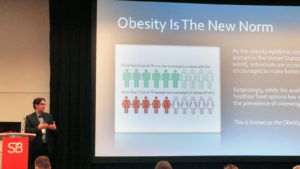 the panelists explored the dissociations between consumers' stated preferences for "green" products and their unconscious brain and behavioral responses. For example, Matthew Tullman, co-founder and CEO of Merchant Mechanics, Inc., delved into the "obesity paradox"—the fact that healthier foods are now more easily available, but more than 6 in 10 men are overweight or obese, and more than 5 in 10 women are. He shared research on how people responded to four categories of foods: healthy foods from brands recognized as healthy, unhealthy foods from healthy brands, unhealthy foods from typically unhealthy brands, and healthy foods from typically unhealthy brands. People's perceptions of the brands affected the price they expected to pay, how engaged they were, and their motivation to buy the food.
In a similar vein, in the plenary session "Beyond Aspiration: Authentic Engagement for Meeting Humanity's Greatest Challenges," psychologist and engagement advisor Renee Lertzman also explained how people think. This included consumers' anxiety, ambivalence and aspiration—and their cognitive dissonance. She argued that real engagement needs to be grounded in empathy and compassion, citing a WWF initiative to reduce demand for ivory, through reducing people's desire for ivory.
Innovation at work
For the past two days at SB18, 12 Innovation Lab teams have been brainstorming, refining and prototyping ideas that address challenges in their industry or area. Designers helped guide attendees in the design thinking process, and the teams' facilitators shared some of their most promising ideas today. They included:
an app for kids in areas of the world with high levels of plastic pollution that gamifies collecting plastic waste at the school level (from the Good Earth lab)
a 3D-printing-style "magic box" that allows people to make their own clothes from sustainable materials and then recycle the item at the end of its life (Good Fashion)
a "community potluck" app that allows neighbors to cook food for each other, reducing food waste and connecting people of different backgrounds (Good Technology)
a community park that repurposes underused space, including a community garden and gardening classes, movie showings and dance classes (Good Cities)
Wednesday, June 6th
Brands that take stands
On the third day of SB18, several companies served as examples of brands that take a stand—even when doing so is highly risky to their business. Jennifer Lindenauer, chief marketing officer at Upworthy, pointed to Patagonia's bold message to the public on public lands—"The president stole your land"—and Dick's Sporting Goods' decision after the Parkland shooting to stop selling assault-style rifles and to stop selling any guns to customers under 21.
REI Vice President of Brand Stewardship & Impact Alex Thompson described the physical and mental harm that results when people don't spend much time outdoors, and how the company set out to change that. With its #OptOutside campaign, REI offered consumers "the choice to do something other than consume," and 700 organizations have joined in the initiative. He also explained that getting people outdoors transforms sustainability from a series of concepts into lived experiences. "You cannot paddle and not care about clean water," he said.
Purposeful partnerships
"Society is now expecting more from businesses," said Sara Soderstrom, assistant professor of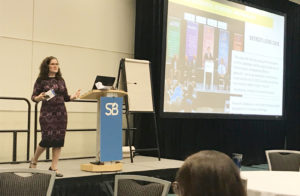 Organizational Studies and Program in the Environment at the University of Michigan, in the session "Company-Community Partnerships for Purpose and Sustainable Impact." She explained that tensions exist between aspirations and objectives, and she used President John F. Kennedy's approach to putting a man on the moon as an example: The aspiration was to advance science, and putting a man on the moon was an objective that served to advance science.
Soderstrom also highlighted how the Detroit Lions team has built partnerships to benefit Detroit residents—in ways that make sense for the Lions. The process has required the team's humility in being willing to learn about the city's needs, and the team has chosen partners that aligned well. For example, the Lions' knowledge of health and wellness made them a good match for Playworks, an organization that helps kids stay active and build skills through play. This kind of match helps build sustainable partnerships.

Tuesday, June 5th
A broad approach to design
The theme of SB18 is "redesigning the good life." On the conference's second day, Cheryl Heller, founding chair of the MFA in Design for Social Innovation, SVA, at Design for Social Innovation, explored the topic of social design and how it is creating new markets and more creative, engaged culture. Beyond logos and product design, she talked about designing what's invisible and designing for relationships instead of transactions. She cited Airbnb as an example—its design "disrupts what we thought we wanted," she said.
Heller also suggested a shift from trying to solve problems to figuring out what you want and then creating it, noting that real discovery sometimes requires not knowing the answers.
The anti-burger burger joint
A Swedish hamburger chain offered an example of a company making bold changes in its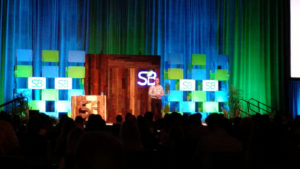 business, including going "climate positive." Max Burgers measured its emissions and found that 53 percent of them were from beef. Even though the company's core product is a classic beef burger, that burger is a "climate villain," said Kaj Török, chief reputation officer and chief sustainability officer. So the company set out to reduce the number of beef burgers it sells and increase the number of other types of burgers. 
Regarding carbon emissions, "going neutral isn't enough," Török said. The company recognized that it is part of the problem, so it wanted to be part of the solution as well. It is going climate positive by planting trees to capture the equivalent of 110 percent of its emissions. To educate and involve customers, Max Burgers put the climate impact of different menu options on the menu.

Monday, June 4th
What's at the heart of a city?
A variety of social enterprises
At Sustainable Brands 2018 in Vancouver, Buy Social Canada led attendees on a social enterprise walking tour across the city, highlighting a long list of social enterprises and the innovative work they're doing to better their community. Buy Social Canada brings together socially driven purchasers and social enterprise suppliers, working with community organizations, the private sector and government.
One example: The B corporation Save On Meats is a diner, butcher and community commissary kitchen that also started its own radio show, broadcasting from its storefront. Save On Meats sells tokens for food that can be given out to people in need. Since 2012, the token program has provided 88,000 meals to local residents.
The Hastings Crossing Business Improvement Association links business, government, grassroots and nonprofit partners to shape a more resilient, inclusive and sustainable local economy in one area of Vancouver. The association works to "bridge the needs of local businesses with the capacity of community-focused organizations to foster a vibrant, healthy and diverse area for all."
The Skwachays Lodge is a hotel, but it is also an aboriginal fair trade gallery and a social enterprise that houses indigenous artists in residence. Profits from the hotel and gallery fund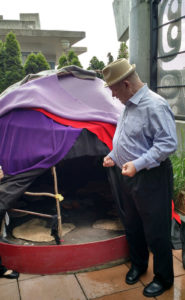 a rental subsidy for the artists in residence, which allows the artists to develop personally and professionally. The hotel is adorned with indigenous art and has an authentic sweat lodge and smudge room for spiritual cleansing ceremonies.
Collaboration between cities and brands
At the session The Rise of City-Brand Collaboration, Local Marketing and Local Positive Hubs, Elisabeth Laville, founder and chief entrepreneur at Utopies, delved into the concept of "local first."
Many companies are focusing on place-making—through which retail stores become community hubs, and public spaces become reimagined as the heart of a community. Examples include West Elm's Local Experiences, where people can learn from local artisans, and Lululemon's "Local" concept, which invites people to gather to practice yoga and for other events.  Laville also highlighted companies that are "growing local" rather than growing into other locations. Examples include:
Cities, in all their variations around the world, present unique challenges, but also vast opportunities for companies working to advance sustainability.